Prices fluctuated slightly higher overall relative to last week's levels, for high-yield as well as high-grade corporates. The moves paralleled those of equities, amid shallow net moves in the Dow, S&P, and Nasdaq. Mixed economic data and caution ahead of the Fed's next moves, figured into sentiment.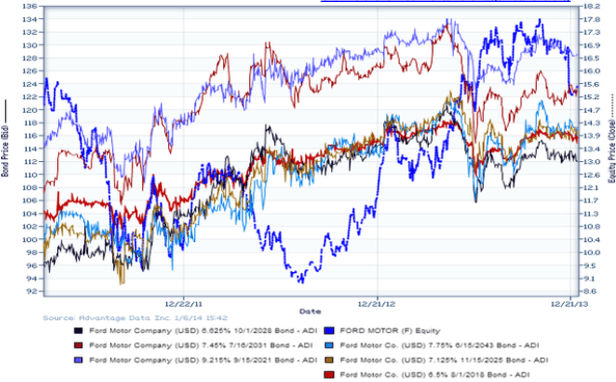 Sideways trending in a big, big way characterized price moves in multiple capital markets today. Moves in corporate bonds were no exception, although overall prices in both high-yield and high-grade debt drifted higher relative to Friday's levels. Although most, but not all, traders had returned to their desks after a holiday interval, volumes were still short of normal levels. Sidelining of many investors was in part responsible, on a day where mixed economic data fed no strong conviction. In particular, U.S. factory orders posted a climb of 1.8%, but that squared off against a pullback in ISM services to 53 from 53.9 (where a value >50 denotes expansion). Adding to the reduced participation levels, the infrastructure of the high-grade debt picture remained complex, keeping price gains of investment-grade corporates under wraps. This structure remained very Fed-dependent, as investors awaited the impact of the Federal Reserve's next move. Although the 'changing of the guard' from Bernanke to Yellen was viewed as quite predictable, an uneven economic recovery confounded bets on the Fed's precise course. Meanwhile, proprietary ADI (Advantage Data) indexes based on USD-denominated debt showed aggregate yields of high-yield bonds were close to flat, at 5.72%, while aggregate yields of USD-based investment-grade indexes inched higher, at 3.34%. Commentary on today's narrow trading ranges was in no short supply; National Securities' Donald Selkin remarked summarily that "Today is just noise back and forth, up a little down a little ... I think we're just going to go sideways until we see the Fed's minutes and the jobs report on Friday."High-yield bonds edged out investment-grade debt in bids. Among high-yield bonds showing a concurrence of top price gains with appreciable volumes traded, GMAC LLC 6.75% 12/1/2014 and Southwestern Energy Co. 7.125% 10/10/2017 made some analysts' 'Conviction Buy' lists. (See chart for Ford Motor Co. bonds above.)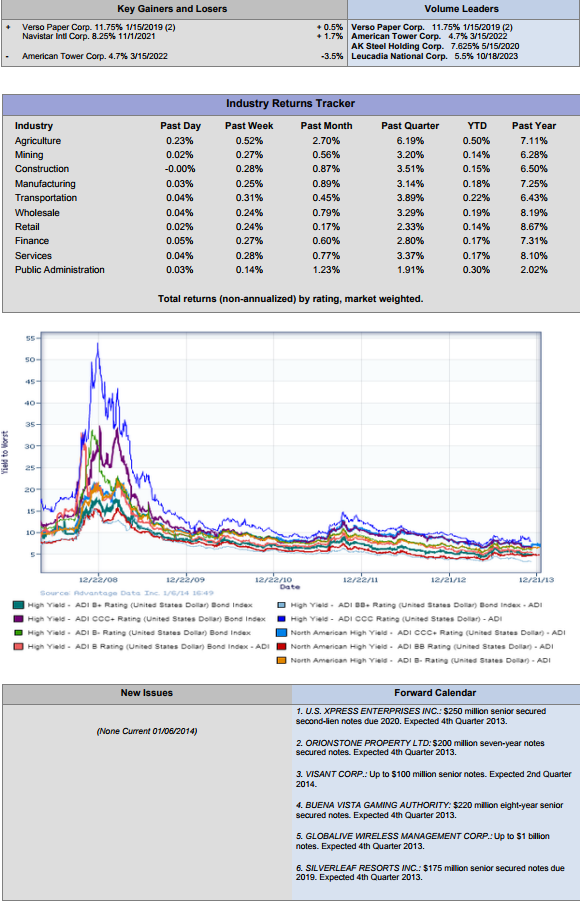 NEW ISSUANCE WATCH: No new high-yield bond offerings priced on 1/2/14. Participants welcomed $4.95B in new offerings on 12/19/13, including those by Sierra Hamilton LLC ($110MM), Darling Escrow Corp. ($500MM), and Michael Stores Inc. ($260MM). The latest data from AMG Data Services showed money flowed out of high-yield mutual funds for the week ended 1/1/14, with a net outflow of $643MM, rendering 29 of the 49 previous weeks with net inflows.
Top Widening Credit Default Swaps (CDS)|Top Narrowing Credit Default Swaps (CDS)
Brascan Corp. (5Y Sen USD MR)|AT&T Mobility LLC (5Y Sen USD MR)
Fiji Islands, Republic of the (5Y Sen USD MR)|Lai Fung Holdings LTD (5Y Sen USD MR)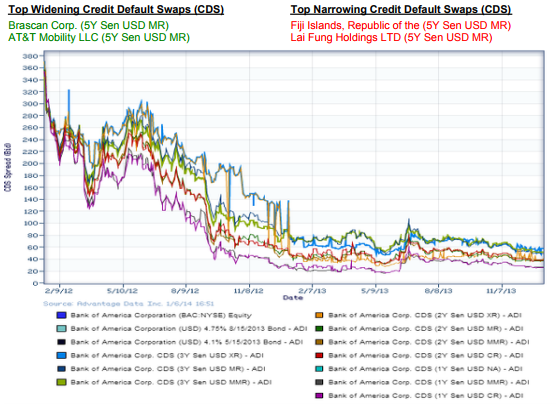 Loans and Credit Market Overview SYNDICATED LOANS HIGHLIGHTS:
Allison Transmission Holdings Inc.: increased the size of its add-on term loan B-3
Darling International Inc.: upsized its term loan B and updated prices
Open Text Corp.: increased the spread on its term loan B
Berry Plastics Corp.: freed its 7-year term loan E for trading
OVERALL CREDIT MARKET: A net positive skew on improvement in the US economy remains intact, although a view builds that a lag in the rate of global economic recovery is in effect. Positive effects remained in force:
TED spread held below 50 bp (basis points)

Fed reduction of borrowing costs stemming from $75 billion-a-month buyback of assets

Net negative capital flows out of high-yield mutual funds (inflows for 29 of 49 previous weeks)