The U.S. bond market roared back to life on Tuesday, evidenced by both speculative- and investment-grade corporates posting robust price gains. High-grade accounts were the most active following last night's release of paper from the likes of Fedex Corp.. Elsewhere, stocks also gained.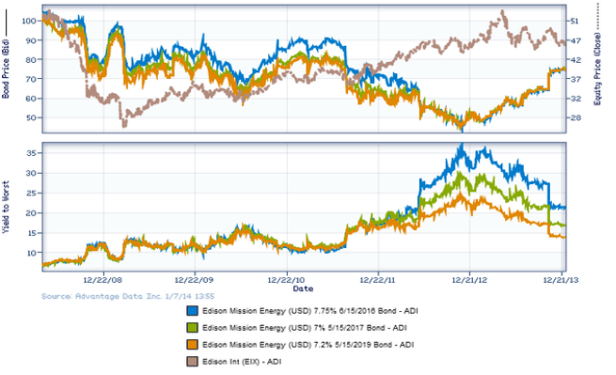 Corporate-bond traders were in a bullish mood today on Wall Street. Both junk-rated and investment-grade debt were seen at higher levels ahead of the Fed minutes which were scheduled to be released on Wednesday. High-grade accounts were particularly active following a swath of new releases yesterday evening ET. Fedex Corp. unleashed $2 billion in senior notes; the three-tranches remained the highlight of today's session. As of 12:50 AM ET, the transport and logistics firm's 5.1% coupon bond maturing in 2044 was seen at an improved bid of 100.314 -- the issue came to market at a price of 99.831. Warren Buffet's Berkshire Hathaway Inc. was also among the first top-quality firms to tap the dollar-denominated market, dropping $750 million in two tranches. The high-yield sphere remained relatively quiet. Regardless, syndicate sources here at Advantage Data Inc. (ADI) are expecting a buoyant start to the year with interest rates expected to stay at historically low levels into the foreseeable future, despite the Federal Reserve's recent scaling back of its asset-buying program. Stocks managed to snap a three-day losing streak in anticipation of strong Q4 earnings. Around 1:15 PM ET, the major U.S. indexes were higher across the board led by the tech-heavy Nasdaq which had tacked on 0.88%. Based on the strong run in 2013 spilling over into the new year, John Lynch, chief investment officer for Wells Fargo Private Bank opined, "Equities are the place to be... Everyone's [now] waiting on the Fed minutes tomorrow and the jobs report on Friday could be a driver of further confidence. Corporates were mostly higher. Among high-yield bonds showing a concurrence of top price gains with appreciable volumes traded, Dell Inc. 5.875% 6/15/2019 and Edison Mission Energy 7.2% 5/10/2017 made some analysts' 'Conviction Buy' lists. (See chart for Edison Mission bonds above.)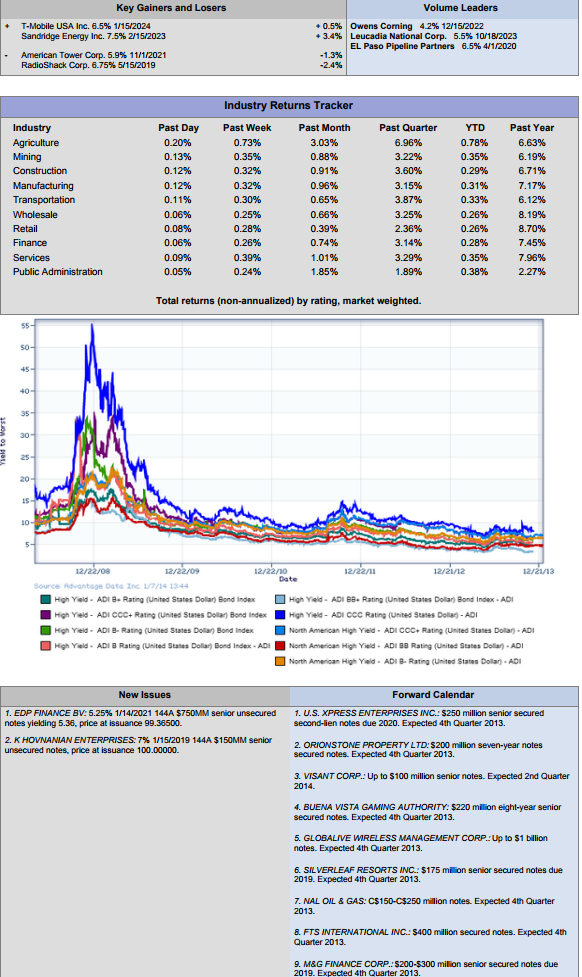 NEW ISSUANCE WATCH: No new high-yield bond offerings priced on 1/2/14. Participants welcomed $4.95B in new offerings on 12/19/13, including those by Sierra Hamilton LLC ($110MM), Darling Escrow Corp. ($500MM), and Michael Stores Inc. ($260MM). The latest data from AMG Data Services showed money flowed out of high-yield mutual funds for the week ended 1/1/14, with a net outflow of $643MM, rendering 29 of the 49 previous weeks with net inflows.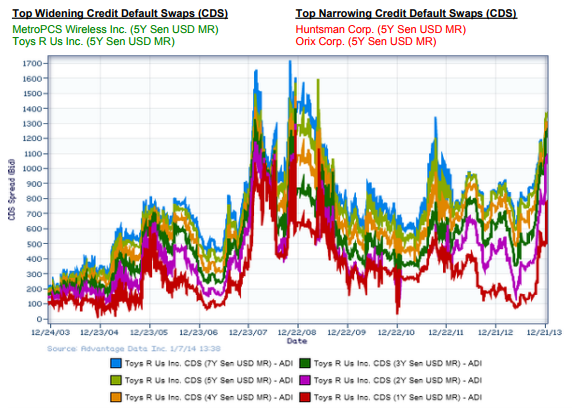 Top Widening Credit Default Swaps (CDS) Top Narrowing Credit Default Swaps (CDS) MetroPCS Wireless Inc. (5Y Sen USD MR) Toys R Us Inc. (5Y Sen USD MR) Huntsman Corp. (5Y Sen USD MR) Orix Corp. (5Y Sen USD MR)
Loans and Credit Market Overview SYNDICATED LOANS HIGHLIGHTS:
Allison Transmission Holdings Inc.: increased the size of its add-on term loan B-3
Darling International Inc.: upsized its term loan B and updated prices
Open Text Corp.: increased the spread on its term loan B
Berry Plastics Corp.: freed its 7-year term loan E for trading
OVERALL CREDIT MARKET: A net positive skew on improvement in the US economy remains intact, although a view builds that a lag in the rate of global economic recovery is in effect. Positive effects remained in force:
TED spread held below 50 bp (basis points)
Fed reduction of borrowing costs stemming from $75 billion-a-month buyback of assets
Net negative capital flows out of high-yield mutual funds (inflows for 29 of 49 previous weeks)