Corporates fluctuated higher along with equities, on the heels of statements by Ben Bernanke attesting to accelerated growth projections for the U.S. economy. A jump in FireEye Inc. by 36% and and a climb in Delta Air by 5.6%, supported interest in risk assets. Safe-haven bids waned amid the upbeat sentiment.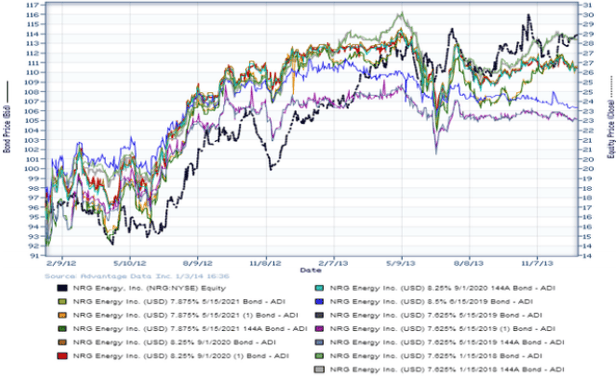 Incremental gains in both high-yield and lower-tier high-grade corporates paralleled a modest but notable afternoon advance in stocks. The pickup in bids was spurred on by fairly upbeat statements by Ben Bernanke, projecting faster growth in the U.S. economy in the coming quarters. Although trading volumes were lighter than usual amid residual New-Year holiday effects and a massive Northeast snowstorm, a distinctly optimistic session ensued. Bernanke's reference to "financial healing, greater balance in the housing market" and "less fiscal restraint" supported an early afternoon rally, erasing earlier losses in shares. The constructive tone impacted sentiment among high-yield-bond traders, limited trading volumes notwithstanding. Share gains supported the expansive tone, as FireEye Inc. soared 36%, Delta Air Lines added 4.1%, and Rite Aid advanced 8.9%, before profit-taking set in. Investment-grade debt remained somewhat capped on the upside, pending further clarification of exactly what Federal-Reserve scale-backs will occur in the first quarter of 2014. Meanwhile, proprietary ADI (Advantage Data) indexes based on USD-denominated debt showed aggregate yields of high-yield bonds were lower by a bit, at 5.72%, while aggregate yields of USD-based investment-grade indexes also inched lower, at 3.33%. Commentary on the afternoon pickup in markets, abounded; National Securities' Donald Selkin remarked that "Today is portfolio balancing and a little bargain hunting after the sell-off ... There was no fundamental reason for the decline yesterday." High-yield bonds edged out investment-grade debt in bids. Among high-yield bonds showing a concurrence of top price gains with appreciable volumes traded, MGM Resorts International 6.625% 12/15/2021 and Linn Energy LLC 8.625% 4/15/2020 made some analysts' 'Conviction Buy' lists. (See chart for NRG Energy bonds above.)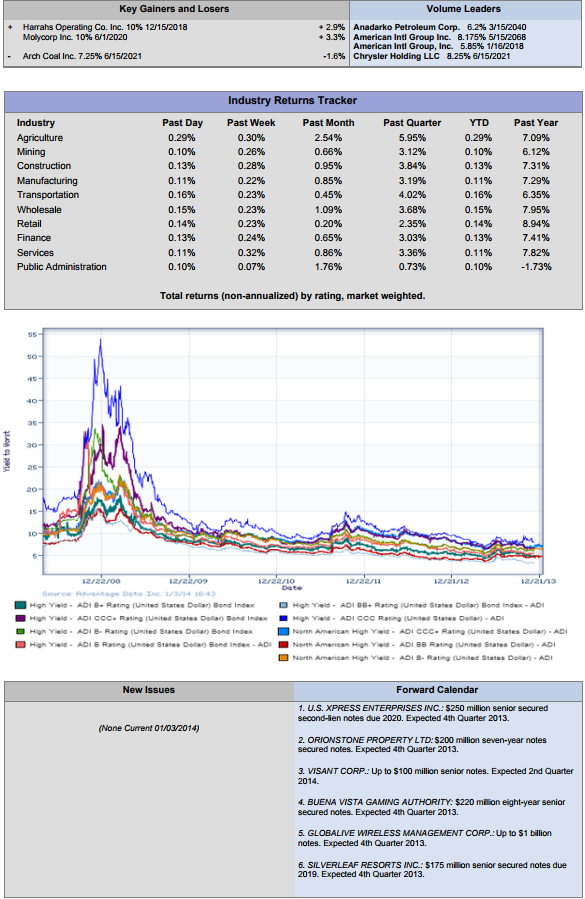 NEW ISSUANCE WATCH: No new high-yield bond offerings priced on 1/2/14. Participants welcomed $4.95B in new offerings on 12/19/13, including those by Sierra Hamilton LLC ($110MM), Darling Escrow Corp. ($500MM), and Michael Stores Inc. ($260MM). The latest data from AMG Data Services showed money flowed out of high-yield mutual funds for the week ended 1/1/14, with a net outflow of $643MM, rendering 29 of the 49 previous weeks with net inflows.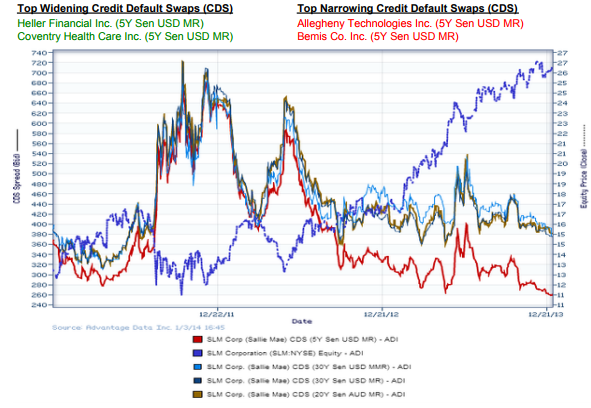 Loans and Credit Market Overview SYNDICATED LOANS HIGHLIGHTS:
Allison Transmission Holdings Inc.: increased the size of its add-on term loan B-3
Darling International Inc.: upsized its term loan B and updated prices
Open Text Corp.: increased the spread on its term loan B
Berry Plastics Corp.: freed its 7-year term loan E for trading
OVERALL CREDIT MARKET:
A net positive skew on improvement in the US economy remains intact, although a view builds that a lag in the rate of global economic recovery is in effect. Positive effects remained in force:
TED spread held below 50 bp (basis points)
Fed reduction of borrowing costs stemming from $75 billion-a-month buyback of assets Net negative capital flows out of high-yield mutual funds (inflows for 29 of 49 previous week
Net negative capital flows out of high-yield mutual funds (inflows for 29 of 49 previous weeks)