A slightly defensive streak, against a backdrop of light volumes and a cautious trading contingent, marked bids for corporate bonds on the first trading day of 2014. High-yield bonds outpaced investment-grade debt, even as equities retreated on the heels of the best year since '97.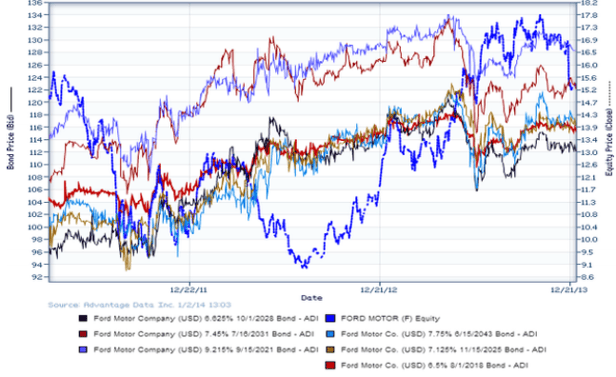 'Wait-and-see' sentiment pervaded much of today's trading in risk assets, including junk bonds, as investors pondered the working parts of the 'equity culture' of 2013, sending stocks to their highest levels since 1997. Investment-grade debt, meanwhile, continued to trail higher yielding corporates, even as Treasuries rebounded incrementally from their recent two-year lows. Investors in high-grade debt ushered in the new year with several questions - as they mulled the issue of how far the Federal Reserve will go in 2014, to end bond buys and 'easy money', and precisely when the Fed will be able to go to work on altering interest rates. Against the backdrop of an incipient blizzard in the Northeast, corporate-bond traders took a cue in part from a mildly defensive stock market, whose levels encountered resistance to further advances amid less-than-spectacular jobless claims and U.S. ISM manufacturing data, while overseas data raised the oft-recurring mild-to-moderate concerns about manufacturing growth in China. In particular, Chinese PMI (Purchasing Mangers' Index) slipped to 51.0 from 51.4 last month (where numbers > 50 signal expansion). Meanwhile, proprietary ADI (Advantage Data) indexes based on USD-denominated debt showed aggregate yields of high-yield bonds inched up a bit, at 5.76%, while aggregate yields of USD-based investment-grade indexes also gained a little ground, at 3.37%. Commentary on the "icy altitudes" of equities prices, were varied; Octopus Investment's Oliver Wallin remarked from London that "More people seem to be wary, as we are, of potential corrections as markets get overexcited ... We've got one eye on the exit ... ." High-yield bonds edged out investment-grade debt in bids. Among high-yield bonds showing a concurrence of top price gains with appreciable volumes traded, Eagle Rock Energy Partners LP 8.375% 6/1/2019 and NV Energy 6.25% 11/15/2020 made some analysts' 'Conviction Buy' lists. (See chart for Ford Motor Co. bonds above.)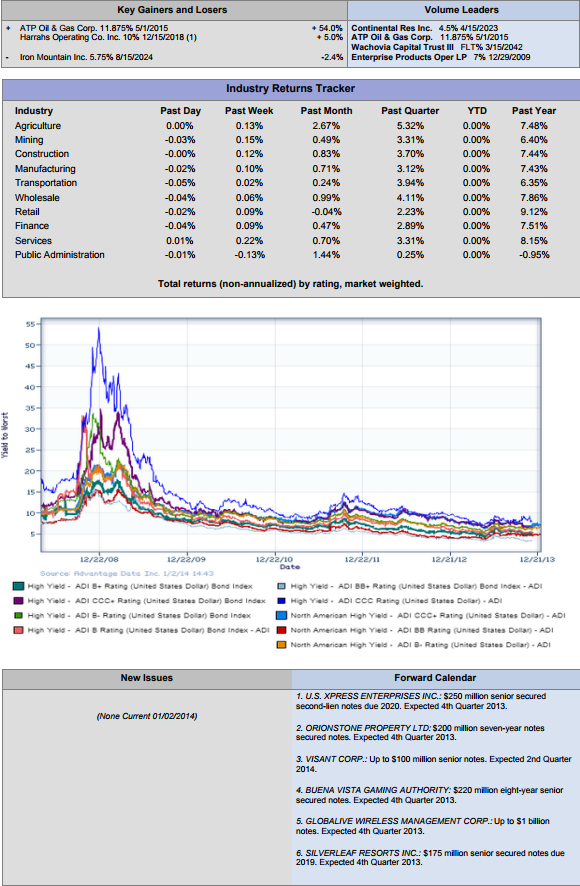 NEW ISSUANCE WATCH: Participants welcomed $4.95B in new offerings on 12/19/13, including those by Sierra Hamilton LLC ($110MM), Darling Escrow Corp. ($500MM), and Michael Stores Inc. ($260MM). The latest data from AMG Data Services showed money flowed out of high-yield mutual funds for the week ended 12/11/13, with a net outflow of $876MM, rendering 29 of the 48 previous weeks with net inflows.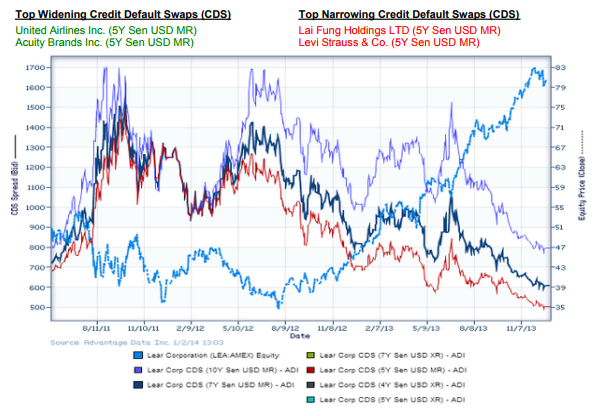 Loans and Credit Market Overview SYNDICATED LOANS HIGHLIGHTS:
Allison Transmission Holdings Inc.: increased the size of its add-on term loan B-3
Darling International Inc.: upsized its term loan B and updated prices
Open Text Corp.: increased the spread on its term loan B
Berry Plastics Corp.: freed its 7-year term loan E for trading
OVERALL CREDIT MARKET:
A net positive skew on improvement in the US economy remains intact, although a view builds that a lag in the rate of global economic recovery is in effect. Positive effects remained in force:
TED spread held below 50 bp (basis points)
Fed reduction of borrowing costs stemming from $75 billion-a-month buyback of assets Net negative capital flows out of high-yield mutual funds (inflows for 29 of 49 previous week
Net negative capital flows out of high-yield mutual funds (inflows for 29 of 49 previous weeks)