JUNK BONDS HELD AN EDGE
, narrowly outpacing investment-grade debt in net price gains linked to actual trades.
Risk-taking remained largely muted nonetheless
, as the pan-European
Stoxx 600
vacillated to the shallow red amid
pressure in the European auto sector
. Allegations of misconduct aimed at several European carmakers from
Volkswagen AG
sent shares of
Daimler AG
,
BMW AG
, and
VW
down between 1.5% and 2.5%, impacting trading in related junk bonds. A
floor on losses in commodities
was maintained, however, as
crude oil prices oscillated higher
amid pledges of lower output from Saudi Arabia and Nigeria.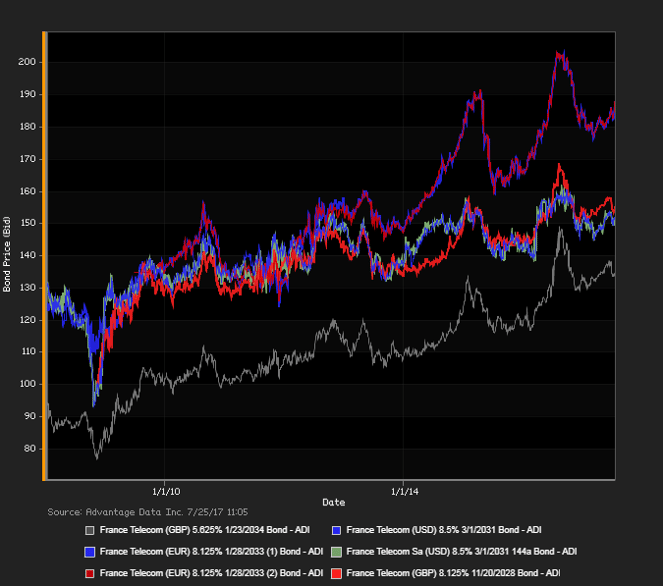 Although the overall backdrop continued to reflect a 'wait-and-see' stance in the face of uncertain 'dovishness' amid global central banks, corporate-bond traders took additional sector cues from pockets of gains in the banking and retail sectors as Switzerland's Julius Baer Group Ltd. shares rose 4.9%, B&M European Value Retail added 4.9%. ADI (Advantage Data Inc.) extensive corporate-bond index data showed a net daily yield increment for investment-grade versus high-yield constituents. High-yield bonds edged out investment-grade debt in net prices, as of 4 PM London time. Among European high-yield bonds showing a concurrence of topmost price gains at appreciable volumes traded, Ensco PLC 4.5% 10/1/2024 made some analysts' 'Conviction Buy' lists.