'RISK-ON' BIAS PREDOMINATED - ALTHOUGH MODESTLY, keeping junk bonds with an overall margin over investment-grade debt, in net price gains linked to trades. Statements from Mario Draghi viewed as hawkish made up an important element in the mix, as the euro stepped higher. However pressure in the auto sector, sending Fiat Chrysler NV shares off 1.2%, and a 2.3% pullback in Deutsche Telekom AG, kept a lid on overall gains in risk assets.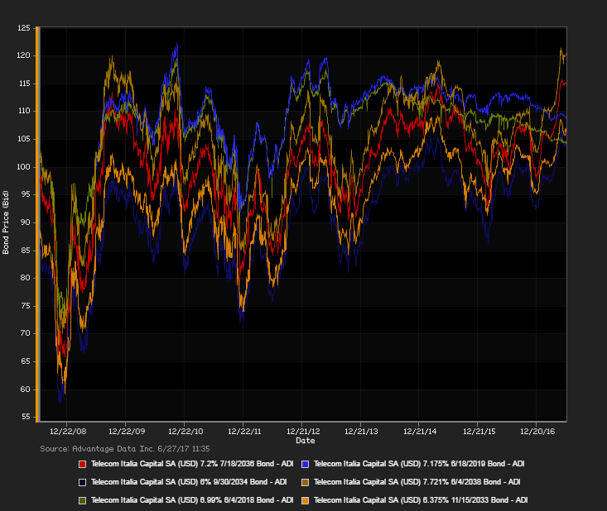 Corporate-bond traders took sector cues from a 2.3% slide in
Deutsche Telekom AG
, while
Bankia SA
jumped 3.53%. ADI (Advantage Data Inc.) extensive corporate-bond index data showed a
net daily yield increment for investment-grade over high-yield
constituents.
High-yield bonds outpaced investment-grade debt
in net prices. Among European high-yield bonds showing a concurrence of topmost price gains at appreciable volumes traded,
Fiat Chrysler NV
4.5% 4/15/2020 made some analysts' 'Conviction Buy' lists.