SENTIMENT SHIFTED BACK TO THE RISK-AVERSE
, as political risk flared further in Spain on the heels of a violent independence vote in Catalonia. With
further Spanish political turmoil expected
in the coming weeks, along with the populist bent shown in Angela Merkel's recent election victory, investors chose to assume a
'wait-and-see' mode today
, taking profits after yesterday's defiant risk-taking. The defensive market tone was further exacerbated by numbers showing an
unexpected pullback in the U.K.'s construction sector
. Nonetheless a 3.7% rise in construction materials firm
Ferguson PLC
's shares buoyed the pan-European
Stoxx 600
, while Spanish banks
CaixaBank SA
and
Banco Santander SA
rebounded from yesterday's pullback on Catalonia news.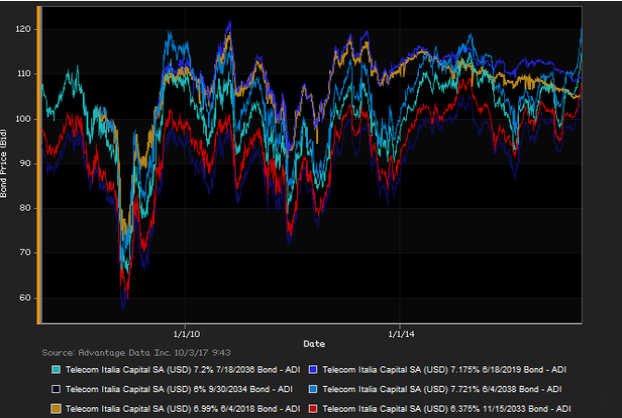 Investment-grade debt edged out junk bonds
in net price gains linked to actual trades, on the European front. Moves collimated in
unusually tight pricing bands of corporate debt
paralleled very thin oscillations about the neutral line in the pan-European
Stoxx 600
index, posting a tiny 0.08% change as of
4:30 PM
, London time.
Flaring political risk
in Europe, particularly in Spain, began to incite
profit-taking, and further, protective moves by investors
- on the heels of investors' defiant risk-taking amid high-profile news out of Catalonia and that of a heinous massacre 'across the pond' in the U.S.;
FXTM
's Hussein Sayed noted summarily, "The political risks have been gradually increasing in the past two weeks; it started with the German Federal Election, which led to the surge of the far-right, and now Catalonia's independence vote ... Politics has clearly overshadowed the economic improvement in the eurozone, and this will likely remain the case for the rest of the week." ADI (Advantage Data Inc.) extensive corporate-bond index data showed a
net daily yield increment for investment-grade versus high-yield
constituents.
Investment-grade edged out investment-grade debt
in net prices, as of
4 PM
, London time. Among European high-grade bonds showing a concurrence of top price gains at appreciable volumes traded,
Shell Intl. Finance BV
2.5%
9/12/2026
made some analysts' 'Conviction Buy' lists. (See the chart for Telecom Italia bonds, above.)