AdvantageData's (ADI) proprietary data shows low yield-to-worst statistics throughout the finance industry. With current yields being lower than yesterday's and the previous week's yields, investors are showing some signs of confidence for the financial sector. A better-than-expected earnings report by J.P. Morgan helped boost banking shares internationally, as discussed in Friday's AdvantageData North American High Grade (HG) & High Yield (HY) summaries.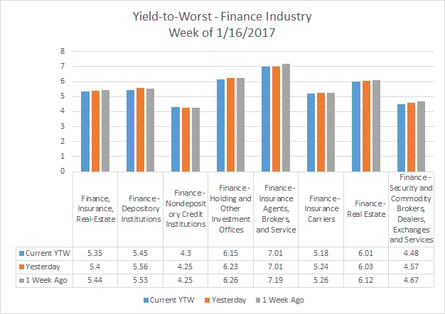 The gains among high yield debt and equities were tempered slightly on Tuesday, based on remarks by Donald Trump and Teresa May. "In his interview with the [Wall Street Journal] on Friday, Mr. Trump said the U.S. dollar was already 'too strong'..." [source]. Trump's remarks sent the dollar lower, while May's remarks sent the British pound higher.
---
To view more reports about the credit markets and access our Market Analytics, request a free trial to AdvantageData.
---