Xerox Corp. (NYSE: XRX) saw a jump in its bonds following the successful split of its business services arm, Conduent Inc. (NYSE: CNDT). The announcement came yesterday as the new Xerox CEO, Jeff Jacobson, announced that, "The successful completion of the separation sharpens our market focus and commitment to our customers". In addition to the ability to resharpen the focus of Xerox to its bread and butter of the technology and hardware business, it also received a $1.8 billion cash transfer from Conduent to help pay off around $2 billion of outstanding debt.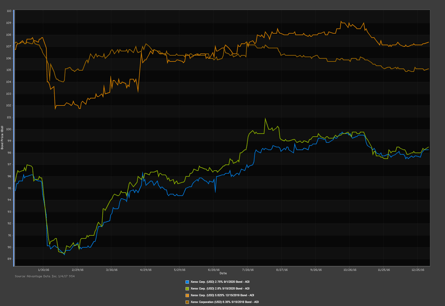 Xerox has been struggling as of late, posting a decline in annual revenue and net income every year going back to 2011. Under the leadership of Jacobson, the company will look to shed some of its workforce as well as improve improve its operational efficiencies going forward. Investors have responded well and seem to be bullish on the direction of the company.
---
Monitor the movement of Xerox's debt in addition to its holders by requesting a free trial of AdvantageData today.
---