AdvantageData tracks the investments of BDCs through quarterly filings as well as the debt of the BDCs themselves through our corporate bond platform. The Advantage

Data

BDC Bond Index is a market-weighted index of all bonds issued by BDCs excluding convertibles and preferreds. This is used to benchmark individual BDC debt vs. the BDC community as a whole.
Prospect Capital (PSEC): Comparing a market-weighted custom index of 25 Prospect Capital bonds to the industry benchmark shows spread declining from a high of over 690bps in February to just 102bps as of the end of 3Q 2016.
PSEC equity hit a new 52-week high in August and has rebounded over 50% from it's bottom in February.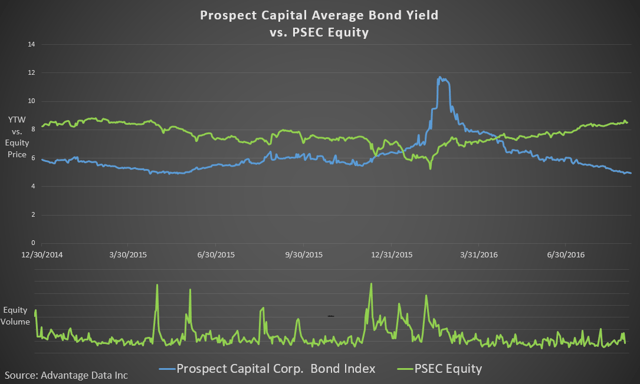 ---
Want to learn more about Advantage Data's BDC and High Yield coverage?
Subscribe to THINK for more credit market updates and request a free trial of Advantage Data.
---