Development Bank of Mongolia may have its 5.75% 3/21/2017 bond rating cut over concerns it may not be able to make its $580 million repayment by maturity. The mining and infrastructure financer currently does not have the liquidity to finance the repayment itself and is looking for outside help. Mongolian government has reportedly contacted China and the International Monetary Fund for assitance in the matter, but investors have their doubts that a bailout will be resolved within a month's time.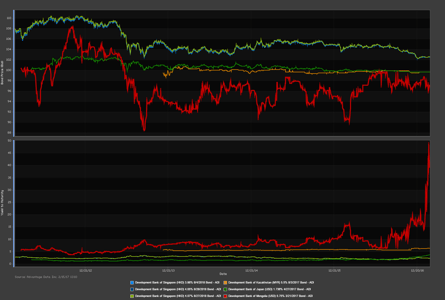 The bond had a midday bid of 97 3/8 with a YTM of 40.363% according to ADI pricing services. Other development banks in the region with bonds maturing at similar times have not experinced that same uncertainty and have had fairly consistent yields leading to their maturity.
---
Monitor the movement of DBM's debt historically and in the future by requesting a free trial of AdvantageData today.