JUNK BONDS FLUCTUATED HIGHER
in overall price gains linked to trades, outpacing investment-grade debt on the European trading front. A
strong showing by Europe's carmakers
was a major element in today's market dynamic, as
Volkswagen AG
shares jumped 3.1%,
Fiat Chrysler NV
was up 1.6%, and
Renault SA
added 1.3%, as of
3:30 PM
, London time. Today's rebound in risk assets, on the heels of the worst run of sell-offs since October of '16, was fed also by upbeat data from heavyweight conglomerate
Bouygues SA
,
3i Group PLC
, and
British Land Co. PLC
.
Nymex
oil prices stabilized around $55.30, supporting a
rebound in the oil-and-energy sector
as the view grew that U.S. shale producers will be more disciplined, going forward.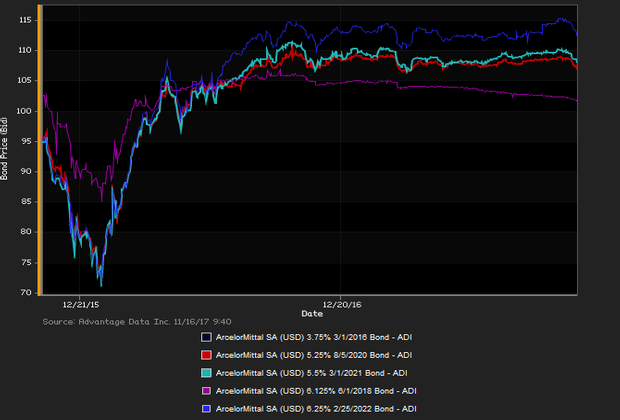 Risk-off trades eased
notably in Europe's bourses and bond-trading centers, as the pan-European
Stoxx 600 equities
index posted a 0.80% gain.
Strength in earlier Asian markets
, notable
upbeat data in Europe's carmaker sector
(see notes above), and a
leveling off of crude-oil's slide
earlier in the week, all factored into a rebound from yesterday's acute defensive tone.
Commodities fared better
overall as well, amid news that
China's central bank has injected cash
into its economic structure, offsetting concerns about a slowdown in global demand for minerals and other building materials. That news helped European mining firms take back a modest layer of recent losses, as
BHP Billiton Ltd.
and
Glencore PLC
shares fluctuated to the shallow green. Sector cues for corporate-bond traders were also given by gains in
BNP Paribas SA
,
Genmab A/S
and
Wirecard AG shares
, while
Sodexo SA
,
GKN PLC
, and
Electrolux AB
pulled back.
ADI (Advantage Data Inc.) extensive corporate-bond index data showed a
net daily yield increment for high-yield versus high-grade
constituents.
High-yield bonds edged out high-grade debt
in net prices, as of
4 PM
London time. Among European high-yield bonds showing a concurrence of top price gains at appreciable volumes,
Intelsat
Jackson Holdings SA
7.25%
10/15/2020
made some analysts' 'Conviction Buy' lists. (See chart for ArcelorMittal bonds, above.)