European stocks
bounced back from
6 month lows
on Wednesday
, seeing levels rise after a downturn
on Tuesday
due to
political risk in Asia
. The
FTSE 100 and Stoxx Europe 600 saw gains
of 0.51% and 0.78% after investors
fled to safe havens
like bonds, yen, and gold
on Tuesday
. Meanwhile, the
Euro saw a loss of -.54295%
against the dollar due to
strong jobs and GDP growth data
out of the US.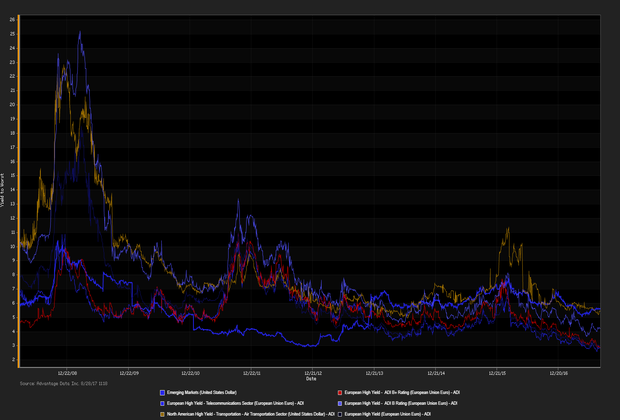 European stocks rallied
on Wednesday
after dropping
Tuesday
as a direct result of a
North Korean missile
flying over Japan. Investor sentiment towards
instability in Asia
has since cooled, but remains a major component in fluctuating world economies. The
deliberate response by world leaders
, including US President Donald Trump,
eased tensions
amongst market analysts worried over proliferation between the parties. ADI (Advantage Data Inc.) extensive corporate-bond index data showed a
net daily yield increment for high-yield versus investment-grade
constituents.
High-yield bonds outpaced investment-grade debt
in net prices linked to trades, as of
4 PM
, London time. Among European high-yield bonds showing a concurrence of top price gains at appreciable volumes traded,
Bahia SUL Hldgs Gmbh (USD) 5.75%

7/14/2026
made some analysts' 'Conviction Buy' lists. (See chart for France Telecom bonds, next page.)