JUNK BONDS CAME UNDER MORE PRESSURE
,
outpaced by investment-grade debt in net prices, for a second day.
Profit-taking
,
political infighting
(in both Europe and the U.S.), and the occurrence of massive
pullbacks in shares of Hammerson PLC and Saga PLC
, all factored into the mostly risk-averse European session.
More bumps along the road in

Brexit
(British exit from EU) were also in the mix, as London traders faced the backdrop of an earlier sell-off in Asian markets, while the
oil-and-energy sector was roiled
by a pullback in global crude-oil prices.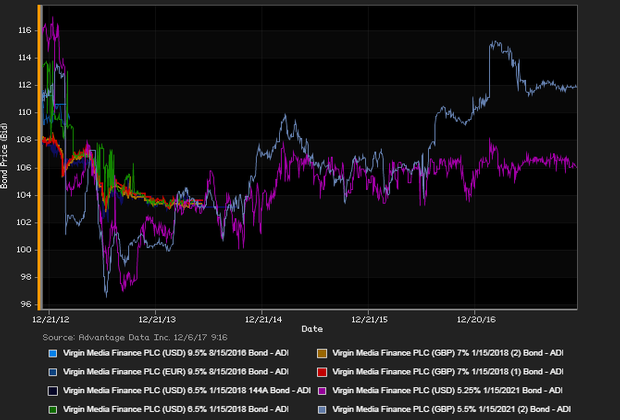 Investors shunned risk
for the most part, keeping the
Stoxx 600
and several single-nation equities indexes in the red.
European junk bonds retracted
along with stocks, in net price moves linked to actual trades.
Profit-taking after the recent run in gains
of global equities was a dominant trend today, with investors adopting a tentative, 'wait-and-see' mode.
Earlier defensive moves in Asia
set the stage for an analogous risk-off bias in Europe.
Mirabaud Asia
's Andrew Clarke referred to investors as "
locking in profits earlier than usual
for the year and not opening any new positions ... ". Meanwhile
increasing challenges in getting a

Brexit

deal done
in Europe and political
wrangling in the U.S. over tax reform and a possible shutdown
of the government
Saturday
, kept some investors focused upon political risk. Sector cues for European bond traders were given by a 1.3% gain in
EasyJet PLC
shares, while the tech group was impacted by a 1.9% pullback in
Micro Focus International PLC
.
ADI (Advantage Data Inc.)
extensive corporate-bond index data showed a
net daily yield increment for high-yield versus investment-grade
constituents.
High-grade bonds outpaced high-yield debt
as of
4 PM
London time. Among European high-grade bonds showing a concurrence of top price gains at appreciable volumes traded,
Barclays PLC
4.375%
1/12/2026
made some analysts' 'Conviction Buy' lists. (See chart for Virgin Media bonds, above.)