EUROPEAN JUNK BONDS RETAINED SLIGHT FAVOR
over their less-risky investment-grade counterparts, as stocks in Europe's bourses stepped modestly higher. A bit
less acute German political risk
was in the picture, relative to yesterday. The view grew that
a return to the
Grand Coalition
of parties urged by Angela Merkel may be best
,
despite resistance from the liberal
SPD
(
Social Democratic Party of Germany
). This, along with a
sharp fresh high in crude-oil prices
, led investors in Europe to show a slight preference for risk assets, as
WTI (West Texas Intermediate)

oil touched its highest close in over two years
.
European oil firms rose accordingly
as gains in
Royal Dutch Shell PLC
shares added 1.0%,
Tullow Oil PLC
was up 4.3%, and
Total SA
was up 1.4%. In other sector cues for bond traders,
Akzo Nobel NV
shares added 1.4%,
Thomas Cook PLC
was off 7.7%, as of
4:40
London time.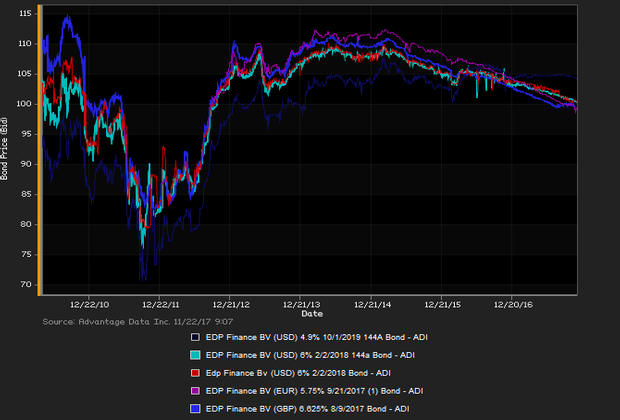 Risk-on bias made a modest showing
among trades in Europe's corporate debt, even amid choppy trading and light volumes ahead of a holiday 'across the pond.'
Acute interest in oil prices
was a principal component today, with
WTI l
evels at two-year highs (see notes above) and
Nymex
prices headed for $58 in afternoon London trading. A
decline in U.S. stockpiles
drove strength in oil-and-energy corporate bonds as well as equities, amid broad-based gains exemplified by those of
Royal Dutch Shell PLC
and
Total SA PLC
(see above).
Price Futures Group
's Phil Flynn noted, "The oil glut that many had predicted would last forever has suddenly turned into a
very tight market
." Meanwhile
angst over political risk in Germany toned down a notch
(notes at top). Dutch paint firm added
Akzo Nobel
NV
added 1.5% amid M&A (Mergers & Acquisitions) news, while
Thomas Cook Group PLC
tanked 7.7%. ADI (Advantage Data Inc.) extensive corporate-bond index data showed a
net daily yield increment for high-grade versus high-yield constituents
.
High-yield bonds edged out high-grade debt
as of
4 PM
London time. Among European high-yield bonds showing a concurrence of top price gains,
Intelsat Jackson Holdings SA
7.5%
4/1/2021
(1)
made some analysts' 'Conviction Buy' lists. (See the chart for EDP Finance bonds, above.)