JUNK BONDS REGAINED A SLIGHT EDGE
over less-risky
investment-grade debt, as stocks in Europe's bourses took a turn to the upside. The pan-European
Stoxx 600
index reflected a string of gains among European equities, driven mainly by
dovish comments from Mario Draghi
, chief of the
ECB (European Central Bank)
. In a more-or-less expected stance, Draghi pledged to move cautiously in scaling back stimulus measures, sending the
euro lower
and putting many investors in risk assets in a good mood. Corporate-bond traders took cues from
early gains in Spanish banks
, with
Banco Sabadell SA
shares up 4.7% at one point,
BBVA
up 3%, while
Nokia Corp.
was off over 17% as of
5 PM
London time.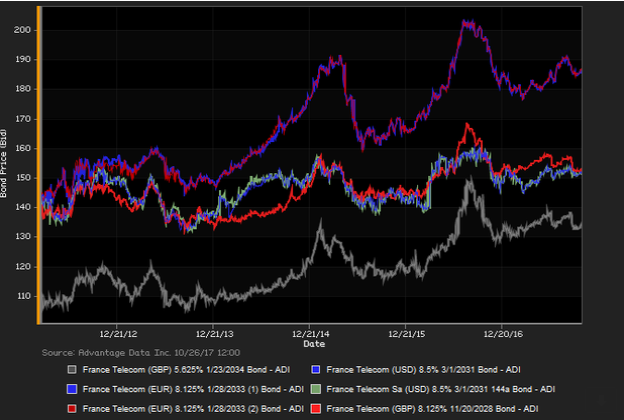 Sentiment showed slight favor for risk-on trades
, leading high-yield bonds to outpace investment-grade securities in net price gains.
Dovish statements from ECB chief Mario Draghi
prevailed over less supportive factors on the European trading front. The latter included a 1.3% pullback in shares of
Deutsche Bank AG
, whose reported gains in third quarter profit was not sufficient to charm investors;
Barclays PLC
shares also tanked value, reporting a 5% year-on-year drop in revenue. Meanwhile stocks and junk bonds in the
telecom sector took a hit
on an 18% plunge in
Nokia Corp.
shares after reports of quarterly losses growing to 183 million euros. However, assurances of further accommodation from the ECB's Draghi supported a band of risk-on traders; TS Lombard's Ken Wattret noted, "The door is left open to extend the asset-purchase program yet again."
Spain's banks (see note above) fluctuated higher initially
on indications of a snap-election vote by Catalonians, although the vote was reportedly cut short. ADI (Advantage Data Inc.) extensive corporate-bond index data showed a
net daily yield increment for investment-grade versus high-yield
constituents.
High-yield bonds outpaced investment-grade debt
in net prices, as of
4 PM
London time. Among European high-grade bonds showing a concurrence of top price gains at appreciable volumes traded,
Barclays PLC
4.375%
9/11/2024
made some analysts' 'Conviction Buy' lists. (See chart for France Telecom bonds, above.)
M. F. Brown mbrown@advantagedata.com