BIDS FOR RISK WERE EXTENDED
from yesterday's session, with European junk bonds easily outpacing investment-grade debt in net prices.
Financials and mainstream insurance securities came on strong
in the afterglow of yesterday's run-up in prices, as high-yield bonds paralleled advances in equities. Shares of
Deutsche Bank AG
added 3.1%,
Commerzbank AG
, 2.7%, as the
Stoxx Europe 600 Bank Index
tacked on another 1.6% gain to yesterday's 1% advance.
The automaker sector was also of special note
, as
Volkswagen AG shares
added 1.2%,
Peugeot SA
was up 3.8%.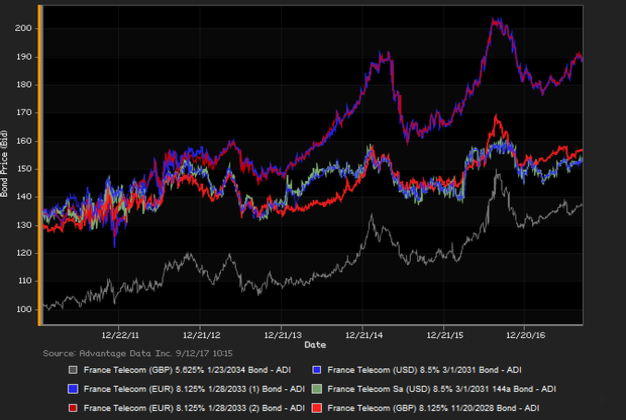 Risk-on sentiment remained in force
as investment-grade bonds stayed pressured along with other safe-haven assets, including gold and U.S. Treasuries. Multiple factors continued to support risk-taking among investors in European high-yield bonds, in the afterglow of
ramped-down concerns about U.S. hurricane damage and Korean war rhetoric
.
ING
analysts wrote of Europe's 'relief rally' in stocks, "... Whether that equity reaction is Panglossian complacency or a sign of wonderful underlying fundamentals remains open to question ... even
Category 5
storms can now be added to the list of things that 'Don't Really Matter' ." In addition to run-ups in the banking sector (see above paragraph), bonds of a spectrum of insurance firms extended gains along with equities, as shares of
Swiss Re AG
,
AXA SA
, and
Beazley PLC
all stepped higher. Corporate-bond traders in Europe also took sector cues from gains in shares of
Ashtead Group PLC
,
Novartis AG
,
Volkswagen AG
, and
Peugeot SA
. ADI (Advantage Data Inc.) extensive corporate-bond index data showed a
net daily yield increment for investment-grade versus high-yield
constituents.
High-yield bonds outpaced investment-grade debt
in net prices linked to trades, as of
4 PM
London time. Among European high-yield bonds showing a concurrence of topmost price gains at appreciable volumes,
EDP Finance BV
6%
2/2/2018
made some analysts' 'Conviction Buy' lists. (See chart for France Telecom bonds, above.)