EUROPEAN JUNK BONDS INCHED UP
in price overall, paralleling an upside fluctuation in stocks of Europe's bourses. The
higher-yielding securities edged out less-risky investment-grade debt
on the heels of yesterday's statements from Federal Reserve Chief Janet Yellen. The
Fed's intention to commence winding down its $4.5 trillion balance sheet
, along with its underpinning of
raised expectations of a December rate hike
, set the stage for upside moves in European financials today.
Deutsche Bank AG
shares gained 2.9%,
Societe Generale
added 2.2%, while M&A (Mergers & Acquisitions) news sent
Commerzbank AG
up 3.5%, as of
3:40 PM
, London time.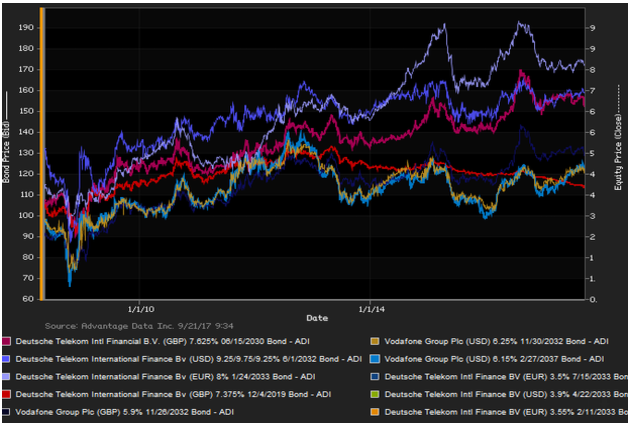 Risk-on trades notched higher overall
, as Europe's high-yield corporate bonds drew modest interest along with equities. The pan-European
Stoxx 600
index shifted to the shallow green, up 0.23% as of
4 PM
, London time. This in turn was driven mostly by
upside fluctuations led by Europe's financial sector
,
inspired by
more hawkish statements from the Federal Reserve
yesterday - exceeding what most global investors expected.
FXTM
's Hussein Sayed noted summarily, "Before the Fed announced its decision, there were high expectations that monetary policy makers would drag interest rate expectations lower for 2017 ... Instead, the
U.S. central bank decided to look past low inflation
and said the harm of the hurricanes would have no lasting economic impact." Gains in financials were broad-based; in addition to share gains in
Deutsche Bank AG
,
Commerzbank AG
, and
Societe Generale
cited above (at top),
HSBC Holdings PLC
initially added 1.1%,
Banco Santander SA
, 1.9%, before profit-taking set in. ADI (Advantage Data Inc.) extensive corporate-bond index data showed a
net daily yield increment for investment-grade versus high-yield
constituents.
High-yield bonds edged out investment-grade debt
in net prices, as of
4 PM
, London time. Among European high-yield bonds showing a concurrence of top price gains at appreciable volumes,
RBS Group PLC
4.7%
7/3/2018
made some analysts' 'Conviction Buy' lists. (See chart for Deutsche Telekom/Vodafone bonds, above.)