Expansive tone continued to build regarding a spectrum of risk-assets, leading European junk debt to draw a fresh wave of bids along with equities. A strong showing by the banking sector was kindled by upbeat earnings from Santander SA, sending the Spanish bank's shares up 4.7%. The news carried along a range of other European banks as well, including France's Societe Generale SA and Germany's Deutsche Bank AG. A rally in Logitech International SA, posting share gains of over 15.5% as of 4PM London time and supporting the European tech group, provided additional sector cues to corporate-bond traders.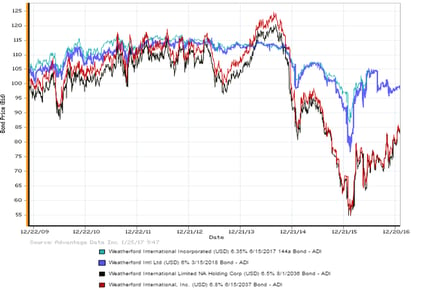 European junk debt was favored easily, relative to less-risky investment-grade bonds. The junk debt outpaced less risky high-grade names early-on, amid a flurry of upbeat European earnings numbers, particularly in the banking group. At the same time, afternoon London trading was abetted by landmark equities news from 'across the pond' as the Dow moved through the key 20,000 threshold. Upbeat earnings from Boeing and Alcoa combined with optimism from the global auto sector, on the heels of Trump meetings with major carmakers. Sector cues for corporate-bond traders were supportive from the tech and pharmaceutical groups as well, as Novartis AG moved up 2.3%. Meanwhile ADI (Advantage Data Inc.) extensive corporate-bond index data showed a net daily yield increment for high-yield versus investment-grade constituents. High-yield bonds easily outpaced investment-grade debt in overall net price gains, linked to actual trades. Among European high-yield bonds showing a concurrence of top price gains with appreciable volumes traded, Fiat Chrysler NV 5.25% 4/15/2023 made some analysts' 'Conviction Buy' lists
M. F. Brown brown@advantagedata.com
---
To view more North American and European Market Summary reports, request a free trial to AdvantageData.
---