AN EXPANSIVE MARKET TONE prevailed overall, among corporate-bond traders in Europe's markets. Accordingly, European junk bonds outpaced investment-grade names in net price gains linked to actual trades, paralleling a move up in the pan-European Stoxx 600 equities index to a nearly homogeneous sea of green. The FTSE 100 index was drawn to the shallow red nonetheless, by a slide in shares of HSBC, on a $4.23 billion 4th-quarter loss, and a $1.0 billion buyback of shares. However, the mining sector drew strength from rises in shares of BHP Billiton and Anglo American PLC, on upbeat profits data. See France Telecom bonds, above. Subscribe to ADI Market Summaries for more detailed European bond research.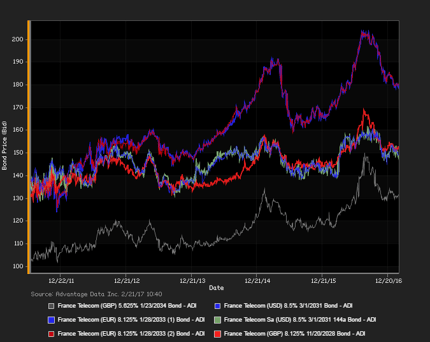 M. F. Brown mbrown@advantagedata.com
---
To view more North American and European Market Summary reports, request a free trial to AdvantageData.
---