SENTIMENT REMAINED CAUTIOUS, in an extension of yesterday's risk-averse mode. Sideways trending of prices remained in force for many corporate bonds, as investors awaited monetary-policy moves from the ECB (European Central Bank) and Federal Reserve. A defensive tone was abetted nonetheless by disappointing manufacturing data out of Germany, with factory orders sliding 7.4% in January. Meanwhile Aggreko PLC shares tanked 13% as of 4 PM London time, Groupe Casino SA dropped 5.2%, and Just Eat PLC moved up 5.9%, lending sector cues to corporate-bond traders.
ADI (Advantage Data Inc.) extensive corporate-bond index data showed a net daily yield increment for high-yield versus investment-grade constituents. High-yield bonds edged out high-grade debt in overall net price gains linked to actual trades. Among European high-grade bonds showing a concurrence of top price gains at appreciable volumes traded, AerCap Ireland Capital LTD 3.95% 2/1/2022 made some analysts' 'Conviction Buy' lists. Subscribe to ADI Market Summaries for more detailed corporate-bond analysis.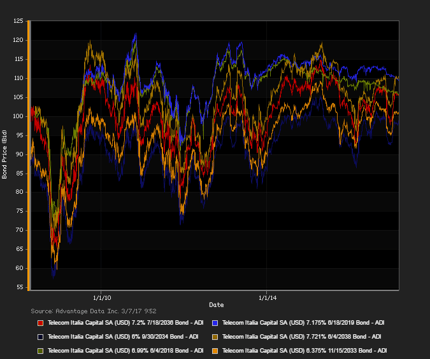 M. F. Brown mbrown@advantagedata.com
---
To view more North American and European Market Summary reports, request a free trial to AdvantageData.
---