CAUTIONARY STANCES ABOUNDED among traders in European corporate bonds as central-bank and political moves loomed, with the Fed and a key Dutch election imminent. An interest-rate hike from 'across the pond' in the U.S. is, by consensus, nearly certain. A key political outcome in the Netherlands also motivated caution, with far-right candidate Geert Wilders' popularity likely to presage voting strength for France's Marine Le Pen. As New York trading was in part hamstrung by a mid-March blizzard, gains in Europe's RWE AG and Ocado PLC lent sector cues to bond traders.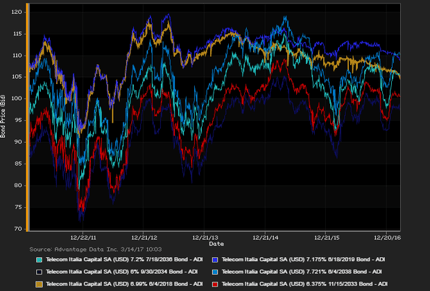 ADI (Advantage Data Inc.) extensive corporate-bond index data showed a net daily yield increment for high-yield versus investment-grade constituents. Investment-grade bonds outpaced high-yield debt in net price gains linked to actual trades. Among European investment-grade bonds showing a concurrence of topmost price gains at appreciable volumes traded, BNP Paribas 2.7% 8/20/2018 made some analysts' 'Conviction Buy' lists.
Subscribe to ADI Market Summaries for more European and/or North American bond research.
M. F. Brown mbrown@advantagedata.com
---
To view more North American and European Market Summary reports, request a free trial to AdvantageData.
---