FLUCTUATIONS AROUND THE NEUTRAL LINE were observed for prices of a spectrum of corporate bonds, on the European trading front. Political risk linked to France was toned down, after a strong showing by French centrist candidate Immanuel Macron, outpacing far-right populist Marine Le Pen in an initial debate. The euro gained relative to its peers, while Italian banks notched higher amid the view that Le Pen's momentum proposing a French exit exit from the EU (European Union) took a hit. Banco BPM, Intesa Sanpaolo, and Unicredit SpA shares all posted share gains, while independently Deutsche Bank AG added 2.4%. Gains in Akzo Nobel NV and a pullback in Belgium's UCB shares also provided sector cues.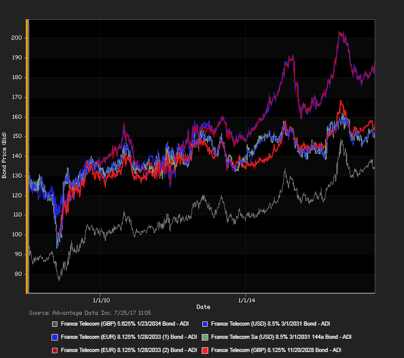 Subscribe to ADI Market Summaries for more European and/or North American bond research.
M. F. Brown mbrown@advantagedata.com Global Head of Research, ADI
---
To view more North American and European Market Summary reports, request a free trial to AdvantageData.
---