CAUTION AMID BREXIT PROCEEDINGS prevailed, keeping European investment-grade bonds with a svelte edge in net price gains linked to actual trades. Resistance to major gains in risk assets - including equities and junk debt - ensued after U.K. Prime Minister Theresa May pulled the trigger on official exit from the European Union, invoking Article 50 of the Treaty of Lisbon. The resulting drawdown in the British pound helped buoy the U.K.'s FTSE index, while high-yield bonds in the mining sector drew strength from a 2.7% gain in BHP Billiton shares.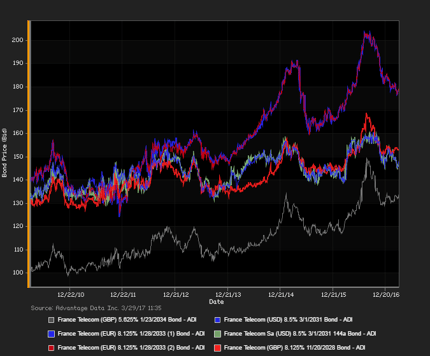 On either side of May's signing of Article 50 of the Treaty of Lisbon, enacted last evening in London, investors exercised caution in their trades although by late afternoon today other factors helped keep a floor on losses in equities and high-yield bonds. These factors included a notable upside move in oil, with Nymex crude just shy of $49.40 by the late morning ET hours, incited by news of further disruption in Libyan output of the commodity. Also in the mix were firming in some equities 'across the pond' in the U.S., as S&P 500 and Dow moved to the green amid gain in the energy and healthcare sectors.
ADI (Advantage Data Inc.) extensive corporate-bond index data showed a net daily yield increment for high-grade versus high-yield constituents. Investment-grade bonds edged out high-yield debt in net price gains linked to trades. Among European high-grade bonds showing a concurrence of top price gains at appreciable volumes traded, Shell Intl. Finance BV 3.25% 5/11/2025 made some analysts' 'Conviction Buy' lists.
Subscribe to ADI Market Summaries for more European and/or North American bond research.
M. F. Brown mbrown@advantagedata.com Global Head of ADI Research
---
To view more North American and European Market Summary reports, request a free trial to AdvantageData.
---