'RISK-ON' BIAS TOOK AN UPTURN as increased bids for yield over quality ushered in, on the heels of yesterday's May Day holiday. This bias was fed in large part by strong euro-zone factory data, with manufacturing PMI coming in at a six-year high in April. Solid gains in Europe's equities were important elements in today's market, as the U.K.'s heavyweight oil firm BP PLC posted a 2.9% gain in shares, while Ocado Group PLC jumped 8.9% on M&A news. Meanwhile the pan-European Stoxx 600 moved to a 'sea of green', as gains in the financial and energy sectors rounded out the firmer market tone.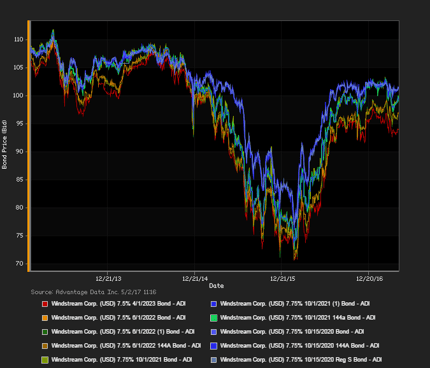 Junk debt was clearly favored over lower-risk investment-grade bonds, on the European trading front. One day after the quiescent trading attending May Day, risk-taking sentiment was clearly in force, fed by multiple market factors. Among the most deterministic of these were favorable euro-zone manufacturing numbers, with April PMI data coming in at a six-year high, affirming a still-strengthening European business picture.
ADI (Advantage Data Inc.) extensive corporate-bond index data showed a net daily yield increment for high-yield versus investment-grade constituents. High-yield bonds outpaced investment-grade debt in net prices. Among European high-yield bonds showing a concurrence of top price gains at appreciable volumes traded, Telecom Italia Capital SA 6% 9/30/2034 made some analysts' 'Conviction Buy' lists
Subscribe to ADI Market Summaries for more European and/or North American bond research.
M. F. Brown mbrown@advantagedata.com Global Head of ADI Research
---
To view more North American and European Market Summary reports, request a free trial to AdvantageData.
---