EUROPEAN HIGH-YIELD BONDS RETAINED FAVOR, easily outpacing investment-grade debt in net price gains linked to actual trades. Multiple factors conspired to keep investors with a 'risk-on' bias - including the afterglow of victory by France's centrist Emmanuel Macron, upbeat trade data out of Germany, and a pullback in the euro. A string of gains in European shares rounded out the risk-tolerant tone, as the pan-European Stoxx 600 equities index moved to the solid green.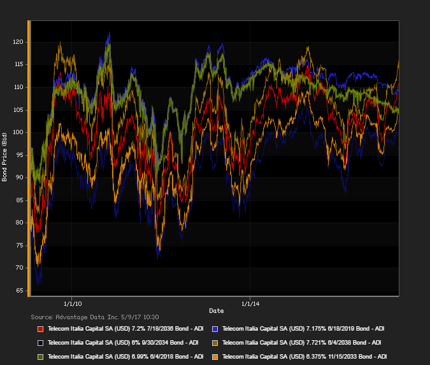 A weaker euro on the heels of the Macron victory helped securities in the export-related sectors. An uptick in the financial group lent further sector cues to corporate-bond traders, as Commerzbank AG shares added 2.8%, and Credit Suisse Group AG jumped 6.8%, before profit-taking. M&A (Mergers & Acquisitions) news in the materials group also figured into today's market dynamic, as Glencore PLC shares climbed 2.6%. ADI (Advantage Data Inc.) extensive corporate-bond index data showed a net daily yield increment for investment-grade over high-yield constituents. High-yield bonds outpaced investment-grade debt in net prices. Among European high-yield bonds showing a concurrence of top price gains at appreciable volumes traded, Ensco PLC 4.7% 3/15/2021 made some analysts' 'Conviction Buy' lists.
Subscribe to ADI Market Summaries for more European and/or North American bond research.
M. F. Brown mbrown@advantagedata.com Global Head of ADI Research
---
To view more North American and European Market Summary reports, request a free trial to AdvantageData.
---