THE NASDAQ FELL SHARPLY MONDAY morning as U.S. tech companies cut off supplies to Chinese electronics manufacturer, Huawei Technologies. In compliance with a decision from the White House, chipmakers have halted business with Huawei until further notice. Amid the escalating trade tensions, all three major indices suffered losses, with the NASDAQ dropping 113 points. S&P -0.67%, Dow -0.33%, NASDAQ -1.46%.
IN THE CORPORATE BOND SPACE,
Berry Global Group Inc.
priced $1.75 billion worth of senior secured notes
through its wholly owned subidiary, Berry Global Escrow Corporation. The global plastic manufacturer plans to
use the proceeds to fund a portion of the acquistion of RPC Group Plc
and to repay existing debt. Additionally, Tesla Inc. (TSLA) stock has
fallen over 20% in the past two weeks, immediately follwoing a sale of $1.8 billion in bonds
. The world's largest producer of electric cars is well off pace to meet their sales goal for the year and are facing what analysts consider to be
dire circumstances
.
ADI
proprietary index data showed a net
yield increment for high-yield versus high-grade bonds
.
High-yield edged out high-grade.
Among high-yield bonds showing topmost price gains at appreciable volumes traded,
Pacific Gas & Electric Co. (USD) 2.95% 3/1/2026
made analysts' 'Conviction Buy' lists. (See the chart for
ADI
indexes above.)
Andrew Robartes
(
arobartes@advantagedata.com
).
Key Gainers and Losers

Volume Leaders

| | | |
| --- | --- | --- |
| + | Wells Fargo & Co. 4.4% 6/14/2046 | + 0.8% |
| | CSX Corp. 4.25% 3/15/2029 | + 0.3% |
| - | Comcast Corp. 4.7% 10/15/2048 | -1.0% |

Qualcomm Inc.

4.3% 5/20/2047
Wells Fargo & Co.

4.4% 6/14/2046

Industry Returns Tracker
Industry
Past Day
Past Week
Past Month
Past Quarter
YTD
Past Year
Agriculture, Forestry, Fishing
-0.29%
-0.61%
0.49%
2.81%
5.12%
5.04%
Mining
0.05%
0.22%
0.54%
2.98%
6.26%
7.16%
Construction
0.08%
0.30%
1.14%
3.23%
4.77%
6.48%
Manufacturing
-0.01%
0.21%
0.84%
2.56%
4.73%
6.17%
Transportion, Communication, Electric/Gas
0.03%
0.16%
0.98%
3.43%
6.00%
8.58%
Wholesale
-0.05%
0.14%
0.95%
3.02%
5.74%
6.79%
Retail
-0.04%
0.23%
0.79%
2.56%
4.96%
6.70%
Finance, Insurance, Real-Estate
0.00%
0.19%
0.85%
2.44%
4.45%
6.56%
Services
0.05%
0.30%
0.89%
2.57%
4.76%
7.18%
Public Administration
-0.05%
0.16%
0.72%
1.45%
1.84%
4.36%
Energy
0.04%
0.15%
0.54%
3.06%
6.40%
8.96%
Total returns (non-annualized) by rating, market weighted.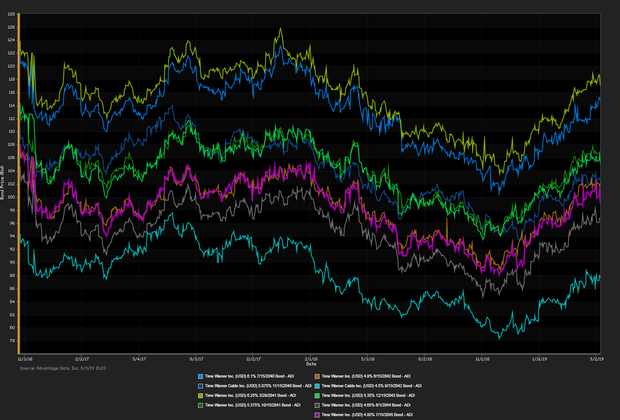 New Issues

New Issues [Continued]

1. Berry Global Inc. (USD) 4.875% 7/15/2026 Reg S (05/20/2019):1250MM First Lien Notes, Price at Issuance 100, Yielding 4.88%.

2. Berry Global Inc. (USD) 4.875% 7/15/2026 144A (05/20/2019):1250MM First Lien Notes, Price at Issuance 100, Yielding 4.88%.
Additional Commentary
NEW ISSUANCE WATCH: on 5/20/19 participants welcome a $1250M new corporate-bond offering by Berry Global Inc.
The most recent data showed money flowed out of high-yield ETFs/mutual funds for the week ended 5/17/19, with a net outflow of $2.6B, year-to-date $11.0B flowed into high-yield.
Top Widening Credit Default Swaps (CDS)
Top Narrowing Credit Default Swaps (CDS)
Rite Aid Corp. (5Y Sen USD XR14)
Hertz Corp. (5Y Sen USD CR14)
SuperValu Inc. (5Y Sen USD MR14)
Atmos Energy Corp. (5Y Sen USD MR14)

Loans and Credit Market Overview
SYNDICATED LOANS HIGHLIGHTS:

Deals recently freed for secondary trading, notable secondary activity:
Horizon Pharma Inc., PCI GAMING AUTHORITY, Medallion Midland Acquisition
Long-term bond yields are expected to hit a cyclical peak in 2019

given tight fiscal policy and lagging global economies. Europe remains checked by stubbornly low inflationary forces.
Positive effects remained in force:
TED spread held below 15 bp (basis points), as of 05/20/19
Net positive capital flows into high-yield ETFs & mutual funds
Copyright 2019 Advantage Data Inc. All Rights Reserved. http://www.advantagedata.com
Information in this document should not be regarded as an offer to sell or solicitation of an offer to buy bonds or any financial instruments referred to herein. All information provided in this document is believed to be accurate. However, Advantage Data and its sources make no warranties, either express or implied, as to any matter whatsoever, including but not limited to warranties of merchantability or fitness for a particular purpose. Opinions in this document are subject to change without notice. Electronic redistribution, photocopying and any other electronic or mechanical reproduction is strictly prohibited without prior written permission from Advantage Data Inc.