M&A continues to drive activity; LBO to take out P.F. Chang's credits held by CĪON, FSK
Arrangers continued to peel more M&A loan business off the forward calendar last week, although early 2019 successes, driven by the opening-week rally, appear to be giving way to a slightly more cautious tone. A resurgent high-yield new-issue market is benefiting as a pair of borrowers are carving out secured notes to take pressure off multibillion-dollar loan executions.
While few deals have priced thus far, accounts fret that the market has come too far, too fast at a time when more difficult executions are lining up. Indeed, all eyes remain on these first few transactions as more sizable M&A deals arrive. Thus far, the priced transactions paint a bullish picture, with three reverse flexes month-to-date, and a trio of the first MFN sunsets since November.
Download: LFI BDC Portfolio News 1-28-19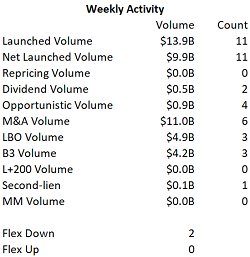 Portfolios in brief: Holds reflect most recent reporting period available
ARCC, FSK, Triton Pacific: Inmar (B2/B) — M&A
A Credit Suisse-led arranger group set price talk of L+400, with a 1% floor and a 98 OID on the $415 million add-on term loan backing Inmar's planned acquisition of Kroger's digital coupon and digital rebate publishing unit. The incremental debt would be fungible with the company's existing covenant-lite first-lien term loan due May 2024, which is currently priced at L+350 but is being repriced upward to match the coupon on the new loan to allow for fungibility. The existing loan, which was issued at 99 in 2017, benefits from 50 bps of MFN protection. Lenders are offered six months of 101 soft call protection. Commitments are due by 5 p.m. ET Wednesday, Jan. 30. Credit Suisse, Jefferies, Wells Fargo and Deutsche Bank are arranging the deal. Holders of the company's 2L debt (L+800, 1% floor) due May 2025 include Ares Capital Corp. with $28.3M, FS Investment Corp. II (now managed by the recently combined FS KKR Capital Corp.) with $2.6M and Triton Pacific Investment Corp. with $500,000.
CĪON, FSK: P.F. Chang's China Bistro (S&P/F: B/B) — LBO
Credit Suisse and KKR Capital Markets set talk of L+675-700 with a 0% floor and a 98 offer price on the $430 million term loan for P.F. Chang's ahead of today's lender meeting at 3 p.m. ET. Proceeds back the buyout of P.F. Chang's by TriArtisan Capital Partners and Paulson & Co. The seven-year loan will be governed by a total net leverage covenant and carry 102, 101 call premiums, sources said. The issuer is also putting in place a $55 million revolver. Issuance is technically at PFC Acquisition Corp. Commitments are due by Friday, Feb. 8. CĪON Investment Corp. holds $14.9M of the company's existing 1L debt (L+500, 1% floor) due September 2022. Holders of the company's 10.25% subordinated notes due June 2020 include FS Investment Corp. with $4.3M in principal amount, FS Investment Corp. II with $29.8M, FS Investment Corp. III with $49.5M and FS Investment Corp. IV with $2.7M.
PSEC: Brightspring Health Services/PharMerica (B2/B) — M&A
A Morgan Stanley-led arranger group launched the $1.65 billion first-lien term loan for Brightspring Health Services backing its merger with PharMerica. A lender meeting is set for 2 p.m. ET today. PharMerica and BrightSpring on Dec. 11 announced they would merge, with BrightSpring majority owner Onex Corp. exiting its investment. The combined enterprise will be owned by KKR, with an affiliate of Walgreens Boots Alliance as a minority investor. The transaction will include a $450 million second-lien term loan as well as a $187.5 million revolver. Arrangers on the financing are Morgan Stanley, Credit Suisse, Jefferies, KKR Capital Markets, and Credit Agricole. PharMerica's lenders were informed that their loans would be repaid once the planned merger with BrightSpring Health Services closes. PharMerica's existing $815 million first-lien term loan due 2024 (L+350) and $185 million second-lien term loan due 2025 (L+775) date back to 2017 LBO by KKR and Walgreen Boots Alliance. Prospect Capital holds $12M of PharMerica's 2L debt.
ARCC: FastMed Urgent Care (B3/B-) — M&A
Barclays, Société Générale and Antares Capital today circulated price talk on a $525 million debt package for FastMed Urgent Care that backs its purchase of NextCare. The $400 million seven-year first-lien term loan is talked at L+450-475 and an OID of 98 to 99, while the $125 million eight-year second-lien term loan is talked at L+850-875 and an OID of 97 to 98, sources said. Commitments are due by noon ET, Thursday, Feb. 7. The first-lien would have six months of 101 soft call protection, while the second-lien would have hard call protection of 102 and 101 in years one and two, respectively. Ares Capital Corp. holds preferred equity units valued at $1.9M.
Download LFI BDC Portfolio News 1-28-19 for BDC investment details provided by Advantage Data; click through links to view stories by LFI.
thomas.dunford@levfininsights.com
212.205.8552
View Historical Headlines



This information is for the sole use of Thomas Dunford. Copyright 2016-2019 LevFin Insights. The copying, replication or redistribution of LevFin Insights content in any form is expressly prohibited without the prior written consent of LevFin Insights.