Belk to extend maturity on 1L credit held by OCSL, Guggenheim and FSK-related entities; BDVC holds debt targeted for refi by Blackboard
A more stable secondary helped move loan transactions across the goal line and even tighten terms, but the holiday-shortened week proved to be another grind as many transactions continued to lag, driving multiple rounds of changes as underwriters chased investor dollars. Flex activity, at least officially, was even at four each tightening and widening, though the undercurrent among deals in process favors investors.
Meanwhile, with a weak M&A pipeline and opportunistic business largely limited to the BB segment, the pace of new launches continued to lag; arrangers last week rolled out another roughly $12.1 billion of loans and high-yield new issues also remained slow. Notably, net launched volume was a mere $3.9 billion as opportunistic activity came to the fore.
Roughly half of last week's volume, in fact, stemmed from a single transaction: Charter Communications' $6.255 billion repricing exercise. Following a rash of L+175 deals from well-rated and well-regarded borrowers in recent weeks, the cable concern Tuesday stepped forward with what is not only the largest L+175 repricing in recent memory, at $6.255 billion, but also the largest spread-cutting exercise since LFI opened its doors in September 2016.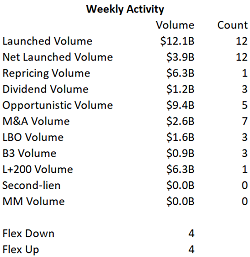 Portfolios in brief: Holds reflect most recent reporting period available
FSK, OCSL, Guggenheim: Belk (B2/CCC) — amend/extend
Belk is offering lenders a 200 bps increase in pricing, to L+675, as well as a 50 bps fee and other sweetened terms, as it seeks to push out the maturity of its $1.06 billion first-lien term loan to July 2025, from December 2022 currently. The Sycamore Partners-controlled department store operator is also offering 103, 102, 101 hard call premiums and 3.5% annual amortization, as well as investor-friendly changes to documentation. These changes entail tightening the so-called Chewy collateral release language. Administrative agent Morgan Stanley is running the amendment process. The issuer is said to be seeking 90% participation. Holders of the existing 1L debt include Corporate Capital Trust II with $4.9M in principal amount, FS Investment Corp. II with $22.5M, FS Investment Corp. III with $21.8M, Guggenheim Credit Income Fund with $1.4M and Oaktree Specialty Lending Corp. with $655,000. FS KKR Capital Corp. holds $119.1M in principal amount of the company's 10.5% second-lien term debt due June 2025 together with an equity stake valued at $3.1M.
BDVC: Blackboard (B3/CCC+) — refi
An arranger group led by Bank of America Merrill Lynch set talk of L+550-575 with a 1% floor and a 99 OID on Blackboard's $500 million term loan B-5 due June 2024 that would give the issuer a roughly three-year extension as part of a comprehensive refinancing. The loan, along with $243 million of second-lien debt and $100 million of perpetual PIK preferred equity, will be used to refinance the company's capital structure and extend maturities. In addition to Bank of America, the arrangers are Deutsche Bank, Morgan Stanley and Citizens. The loan will include six months of 101 soft call protection. Commitments are due on Thursday, Oct. 24. Business Development Corp. of America holds $11.6M in principal amount of the company's existing 1L term loan due 2021 (L+500).
OCSI: Ellie Mae (B3/B-/B+) — add-on, M&A
Jefferies, Macquarie and Nomura set a 99 OID on the $350 million add-on first-lien term loan for Ellie Mae, proceeds of which would fund an acquisition. The incremental debt would be fungible with the borrower's existing term loan due April 2026, which is priced at L+400, with a 0% floor. The issuer is offering to reset the 101 soft call protection for six months. Commitments are due by 3 p.m. ET Friday, Oct. 25. Thoma Bravo bought the company earlier this year, putting in place a $965 million term loan B (L+400), which was issued at 99.5. A $385 million eight-year second-lien term loan was placed privately. The transaction leveraged Ellie Mae at 5.1x first-lien and 7.1x total. The loan is quoted in a 99.5-100 context earlier in the week. Oaktree Strategic Income Corp. $6.5M in principal amount of the existing term debt due April 2026.
Crescent: Mediaocean (B2/B) — div recap
A Macquarie-led arranger group set talk of L+400-425 with a 0% floor and a 99 offer price on the dividend recapitalization for Vista Equity Partners-controlled Mediaocean. The deal will include a $50 million revolver and a $693 million seven-year covenant-lite term loan. Proceeds, along with $23.5 million of cash on hand, will repay the existing roughly $300 million term loan B due August 2022 (L+425, 1% floor) and a fund a $413 million dividend to Vista, which has owned Mediaocean since 2015. The arranger lineup also includes BNP Paribas, Golub Capital and Jefferies. Moody's noted the deal includes a $132 million free-and-clear incremental basket, with a 1x grower and additional amounts up to 5.25x pro forma first-lien leverage or 7.25x secured. The deal includes asset-sale repayment step-downs and Mediaocean will have the ability to release a guarantee when a subsidiary is not wholly owned (the Chewy provision) and a J. Crew blocker provision limiting the ability to transfer intellectual property to unrestricted subsidiaries. The issuer last approached the market in 2017 with a $90 million fungible add-on the first-lien term loan to repay its privately placed second-lien term loan. Crescent Capital BDC holds $8.3M in principal amount of the existing term debt due August 2022.
NMFC: National Mentor (B2/B) — add-on, div recap
Goldman Sachs and UBS set a 99 offer price on National Mentor's $100 million fungible add-on first-lien term loan that funds a dividend. Centerbridge acquired the issuer earlier this year, backed by an $855 million seven-year first-lien term loan strip due March 2026 (L+425) via a Goldman-led arranger group along with a $200 million privately placed second-lien term loan due March 2027 (L+850). The deal also included a $430 million equity contribution from the sponsor. National Mentor will reset the loan's 101 soft call protection for six months. Commitments are due at noon ET Wednesday, Oct. 23. New Mountain Finance holds $21.1M in principal amount of the existing 2L debt.
Download LFI BDC Portfolio News 10-21-19 for BDC investment details provided by Advantage Data; click through links to view stories by LFI.
thomas.dunford@levfininsights.com
212.205.8552