A trio of issuers launch refinancing efforts for BDC-held credits; 'net net' calendar turns negative
High-yield business was brisk last week with primarily off-the-run credits swapping higher coupons for extended maturities, and investors were happy to oblige the trade. The lone M&A-related bond trade, IAA Spinco, cleared with fanfare despite shaky market conditions as the well-rated credit was embraced by both bond and loan accounts alike.
Over in loans, arrangers launched a handful of new deals, but much of the focus was wrapping up existing business ahead of the holiday weekend. A burst of allocations Wednesday and Thursday, coupled with some new repayments, pushed LFI's "net net" calendar ever so slightly into negative territory as the week came to a close, which is the first time the metric has been negative in roughly two months.
With the week's business completed, $10.3 billion of loans remain in market, with another $36.7 billion on the visible horizon. Though new M&A announcements were sparse, NASCAR added $1.5 billion to the forward calendar this week with an agreement to buy International Speedway.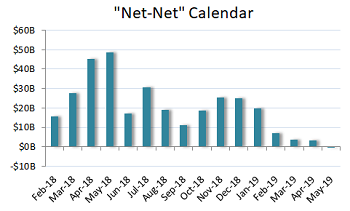 Portfolios in brief: Holds reflect most recent reporting period available
Audax, OXSQ, SLRC, CGBD: AmeriLife Group (B3/B) — refi, M&A, div recap
Credit Suisse, SunTrust Robinson Humphrey and Deutsche Bank set talk of L+450-475 and a 99 OID for AmeriLife Group's proposed first-lien loan and L+875-900 and a 98.5 OID for the $70 million second-lien loan. Commitments will be due Thursday, June 6. The seven-year covenant-lite first-lien term loan would include six months of 101 soft call protection. The eight-year second-lien term loan is callable at 102 and 101 in years one and two, respectively. The deal also has a $40 million revolver, and a first-lien strip that includes a $250 million funded term loan and $35 million delayed-draw term loan. Proceeds refinance existing debt, fund acquisitions and finance a shareholder dividend.Holders of the company's existing 1L debt due July 2022 (L+475, 1% floor) include Audax Credit BDC with $1.89M in principal amount and Oxford Square Capital Corp. with $14.94M. Holders of the existing 2L debt due January 2023 (L+875, 1% floor) include Solar Capital with $15M and TCG BDC with $22M.
OCSI: Crosby Worldwide (Caa1/B-) — refi
UBS and KKR Capital Markets scheduled a lender meeting for Wednesday, May 29, to roll out a refinancing for Crosby Worldwide. The proposed refinancing launches on the heels of KKR-controlled company's acquisition of Gunnebo Industries, a global provider of security products, services and software. The purchase price was not disclosed, but sources note the acquisition will be financed with all equity and thus will reduce leverage. Crosby is acquiring the business from Segulah, a Nordic private equity firm; all closing conditions have been satisfied, according to the company. There is currently $531 million outstanding under the company's existing first-lien term loan due November 2020 (L+300) and $90 million outstanding under the second-lien tranche due 2021 (L+600). Oaktree Strategic Income II Inc. holds $4.97M in principal amount of the existing 1L debt.
Blackstone/GSO: Victory Capital Management (Ba3/BB-) — refi, M&A
Barclays, RBC Capital Markets and BMO Capital Markets set price talk of L+350, with a 0% floor and a 99 OID, on the $1.13 billion term loan B backing Victory Capital Management's purchase of USAA Asset Management. The seven-year loan would include six months of 101 soft call protection. Commitments are due by 5 p.m. ET Wednesday, June 5. Nasdaq-listed Victory Capital will also put in place a $100 million five-year revolver alongside term loan. The purchase was announced in November and SEC filings provided certain financing details at that time. Last year's filing penciled in preliminary pricing of L+350 with 0% floor and one 25 bps step-down tied to leverage. MFN protection would be 50 bps with a 12-month sunset. The term debt would be covenant-lite, and the RC would be governed by a springing net first-lien leverage test when more than 30% is drawn. Blackstone/GSO Secured Lending Fund holds $1.5M in principal amount of the company's 1L term debt due February 2025 (L+275, 0% floor).
Download LFI BDC Portfolio News 5-28-19 for BDC investment details provided by Advantage Data; click through links to view stories by LFI.
thomas.dunford@levfininsights.com
212.205.8552
Unsubscribe or change your preferences
This information is for the sole use of Thomas Dunford. Copyright 2016-2019 LevFin Insights. The copying, replication or redistribution of LevFin Insights content in any form is expressly prohibited without the prior written consent of LevFin Insights.
Download: LFI BDC Portfolio News 5-28-19