Increase in market activity brings wave of add-ons to BDC-held credits
New-issue activity ramped up last week in both loans and bonds as increasingly robust conditions paved the way for well-rated and/or well-regarded issuers to speed through the market quickly despite the crowded calendar. For bonds, it was the busiest week this year with $15.5 billion of issuance, while loan arrangers rolled out another $8.1 billion in a mix of M&A and opportunistic business, much the same as the previous week.
While the loan calendar was crowded—some 44 transactions remained in market as the week came to a close—some clear winners emerged. Indeed, investors rushing into familiar credits yielded a string of accelerated deadlines and several reverse flexes with no deals pricing up as of yet.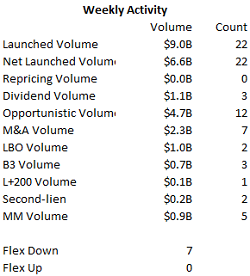 Portfolios in brief: Holds reflect most recent reporting period available
Golub: Axiom Global (TBD/TBD) — LBO
Barclays today launched a $175 million term loan B to fund Permira's acquisition of Axiom Global. The term loan B is being put in place alongside a $25 million revolver. Barclays is serving as sole lead arranger and administrative agent. Axiom on Sept. 5 announced it had entered into a definitive agreement whereby a company backed by the Permira funds would make a "significant" investment in Axiom, with proceeds to support its expansion in the U.S. and internationally, to launch new service delivery capabilities and to leverage the legal industry's ongoing shift to flexible talent models. The transaction is expected to close in the fourth quarter. Axiom is a provider of specialized on-demand legal talent, offering clients access to more than 2,000 lawyers through a curated platform. The New York-based company currently operates in North America, the U.K., Central Europe and Asia Pacific. Golub Capital previously provided Axiom with a unitranche credit facility due April 2026, with Golub Capital BDC holding $3.34M in principal amount of a LIBOR component (L+550) and $1.39M of a EURIBOR component (E+575), Golub Capital BDC 3 holding $1.17M of the LIBOR component and $486,000 of the EURIBOR component, and Golub Capital Investment Corp. holding $2.58M of the LIBOR component and $1.08M of the EURIBOR component.
BBDC: Concentra (B1/B+) — add-on, repayment
J.P. Morgan launched a $100 million add-on first-lien term loan for Concentra that will be used, along with $145 million of balance sheet cash, to repay its second-lien term loan. The new money, which is offered at 99.51, will be fungible with the $1.14 billion term loan B due June 2022, which is currently priced at L+275 with a 0% floor, but with Moody's upgrade to B1 (stable), is poised to step to L+250. Pricing is expected this afternoon. The existing second-lien term loan, which was privately placed, will be repaid at 101. Barings BDC holds $2.91M in principal amount of the existing 1L debt due June 2022.
Audax, OXSQ: ECi Software (B3/B-) — add-on, M&A
Golub Capital launched a $124 million first- and second-lien term loan add-on package for ECi Software to finance the company's acquisition of Trivest Beheer B.V. The financing consists of a $96 million first-lien incremental term loan and $28 million second-lien incremental term loan, both of which will be fungible with their respective existing tranches. The transaction will refresh 101 soft call protection for six months on the entire pro forma first-lien tranche. Commitments are due Monday, Sept. 23. ECi last tapped the market in March via Bank of America Merrill Lynch for a $50 million add-on to the first-lien term loan that was used to repay borrowings under its $60 million revolver and to fund general corporate purposes, LevFin Insights reported. The originally $380 million first-lien term loan due September 2024 (L+425) and $140 million second-lien loan due September 2025 (L+800) backed Apax Partners' 2017 acquisition of ECi Software, a provider of ERP solutions for small and midsize businesses in the office products and furniture, construction, supplies, hardware, sanitation, manufacturing and distribution industries. Audax Credit BDC holds $1.98M in principal amount of the existing 1L debt and Oxford Square Capital Corp. holds $4.94M of the 1L and $15M of the 2L.
BCSF, TCPC: HighTower (TBD/TBD) — add-on, M&A
Antares Capital set price talk of L+500 with a 1% floor and a 99.5 OID on the $180 million first-lien add-on term loan strip for HighTower. The entire pro forma term loan tranche of $450.8 million will carry 101 soft call protection for six months. Commitments are due Wednesday, Sept. 25. The add-on strip consists of a $135 million term loan and a $45 million delayed-draw component, the latter of which will carry a 1% ticking fee and will be available until Dec. 31, 2020. Proceeds will fund planned acquisitions. The incremental facilities will be fungible with the existing tranches. The facilities will be unrated and governed by a total net leverage covenant. Existing financing includes roughly $371 million of combined first-lien and delayed-draw facilities, an $87.5 million second-lien term loan and a $50 million revolver. The company is considering issuing as much as $20 million of incremental second-lien financing as part of the acquisition financing. Bain Capital Specialty Finance holds $25.6M in principal amount of the existing 1L debt due January 2025 (L+500), and BlackRock TCP Capital Corp. holds a combined $21.25M of the 2L debt due January 2026 (L+825).
BCSF: MeridianLink (B3/B-) — add-on
Antares Capital set price talk of L+400 with a 1% floor and a 99 OID on the $60 million add-on term loan for MeridianLink. Commitments are due Thursday, Sept. 19. The incremental first-lien term loan will be fungible with the existing roughly $352 million first-lien term loan. Golub Capital is a joint arranger. The existing first-lien debt dates to the July 2018 issuance of a $315 million covenant-lite term loan due 2025 together with a $35 million revolver. The term loan was issued at 99.5. A $125 million second-lien term loan was privately placed. Proceeds supported Thoma Bravo's buyout and merger of MeridianLink and CRIF Lending Solutions. Bain Capital Specialty Finance holds $1.83M of the existing 1L debt due May 2025 (L+400).
GARS, ICMB: QualTek (B3/B) — incremental, refi, M&A, GCP
Citi and Fifth Third Bank launched a $150 million incremental term loan for QualTek, setting a lender call for 10 a.m. ET tomorrow, Sept. 17. As reported, proceeds would be used refinance existing debt, fund acquisitions and for general corporate purposes. QualTek was last in the market in July 2018 with a $280 million covenant-lite term loan due 2025 (L+575, 1% floor), which was issued at 98. The term debt was put in place alongside a $65 million asset-based revolver. Fifth Third was lead on the term loan, and PNC was sole lender on the revolver. Proceeds supported Brightstar Capital Partners' acquisition of the King of Prussia, Pa.-based company. Garrison holds $5.89M in principal amount of the existing 1L debt, and Investcorp Credit Management BDC holds $9.81M.
CGBD: Topps Co. (B2/B-) — extension
Deutsche Bank launched an 18-month extension of Topps Company's $122 million term loan due October 2020. In pushing the loan's maturity out to April 2022, the extension would keep pricing at L+600. The extension fee hasn't yet been outlined. As before, the loan is governed by a 4.5x net first-lien leverage test. Commitments are due at noon ET on Friday, Sept. 20. Topps, which is owned by Madison Dearborn and Michael Eisner, is a creator and marketer of sports and related cards, entertainment products and distinctive confectionery brands. TCG BDC holds $22M in principal amount of the existing 1L debt.
OCSI: AmeriLife Group (B2/B) — add-on, recap
Investors received allocations of the $465 million add-on term loan for UFC (L+325), which broke to a 100.125-100.5 market, from issuance at par. Goldman Sachs was left lead on the deal, which cleared inside of original guidance. Proceeds would be used to redeem preferred equity, leveraging the issuer at 4.25x, all senior. The preferred equity is held by MSD Capital, SEC filings show. The mixed martial arts company is owned by talent agency Endeavor, which earlier this year filed for an IPO. Endeavor is controlled by Silver Lake Partners, KKR and MSD Capital. Oaktree Strategic Income Corp. holds $4.97M in principal amount of the existing 1L debt. – Thomas Dunford
Download LFI BDC Portfolio News 9-16-19 for BDC investment details provided by Advantage Data; click through links to view stories by LFI.
thomas.dunford@levfininsights.com
212.205.8552