The North Sea's largest independent oil company, Premier Oil, has pushed back issuing 2.6 billion in debt until after the new year. The strained oil company had planned on revealing the rescue package at the end of September, but pushed back the deadline at the last moment. The 40 institutional lenders included in the syndicate have not been able to finalize the deal citing the scale and complexity of the arrangement as well as current exposure in the sector.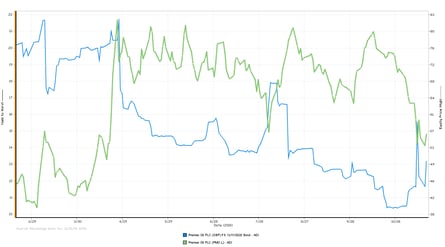 Through AdvantageData's charting function we are able to contrast the oil company's debt movement with its equity price following the delay and uncertainty of issuance.
Going forward, analysts question the companies ability to find enough buyers to take on such a massive package, as investors anticipate a large-scale exit from corporate debt in the coming months.
---
To learn more about the credit markets and access our charting functions, request a free trial to AdvantageData.
---