BDC COMMON STOCKS
Total Return Milestone
This may have been a holiday shortened week, but there was notable news where BDC sector pricing was concerned.
Using the Wells Fargo BDC Index as our guide, the sector found its way to a new 2019 YTD high.
The "total return" index reached 2,731.06 at week's end, breaking above the prior high set in the week ended May 2, 2019 at 2717.87.
On the week, the sector index was up 1.1% and 17.6% YTD.
32 different issues out of the 45 we track were unchanged or up in price through July 5, and 13 were down, confirming the up trend.
Not So Simple
However, some of the rest of the metrics we look at provides a more mixed picture.
For example, there were only three BDCs increasing in price by 3.0% or more.
Typically in robust periods for the BDC sector, we've seen 6-8 stocks jumping up 3.0% or more in price.
Winners And Losers
Interestingly, the top 3 stocks this week (PTMN, OHAI and FSK) are all BDCs which have fared badly over the past 12 months.
PTMN , up 6.7% on the week is down (26%) over a 1 year year time frame and still off (7%) over a 4 week period.
OHAI was up 4.4% but is off (27%) since July 2018.
FSK moved up 3.0%, but remains (20.3%) behind.
Dead cat bounces ?
Immovable
Furthermore, the number of individual stocks trading above the February 22, 2019 BDCS high remains unchanged at 14.
Fourteen is also the unchanged number of BDCs trading above book value, and thirty one trade below.
Back in late May, the BDC sector seemed on the way down as the near 6 month rally petered out.
Since then, though, the sector has stabilized judging by the numbers, boosted by new highs in the broader indices.
In-Between
It's too early, though, to suggest the BDC sector is getting back into rally mode.
Instead, we appear to be in a BDC purgatory stage.
What happens to BDC prices in July, as IIQ 2019 earnings season approaches, will tell us more about investor sentiment.
Quiet
As you'd expect in a week where many market participants were at the beach, there was little market moving news.
A few BDCs announced their latest regular dividends (PFLT, SCM and SUNS), all of which were as expected.
Moreover a couple of BDCs set their earnings release and Conference Calls for the IIQ (BBDC and CPTA).
The BDC Reporter itself has been on vacation, but we'll be updating the BDC Dividend Table and the BDC Earnings Calendar with this week's data.
Old Favorite
Otherwise, the only meaningful story this week was the BDC Reporter's own exclusive about Medley Capital's (MCC) offer to its Israeli bond holders.
As we mention in the article on the subject published on Friday, the proffered settlement includes language that indicates the controversial three way merger with Sierra Income and Medley Management (MDLY) remains alive and well.
In fact, much of the impetus behind placating the MCC Israeli bond holders seems to be playing for time while the principals at Medley continue to put the finishing touches on the merger.
Of course, we're just guessing as there has not been any meaningful disclosure about the myriad moving parts regarding Medley in weeks.
This Is What Volatility Looks Like
That has caused wide fluctuations in the prices of MCC and MDLY, as well as the four Baby Bonds involved: MCV, MCX, MDLQ and MDLX.
This is colorfully illustrated below in the stock chart of all 6 securities over the past 30 days: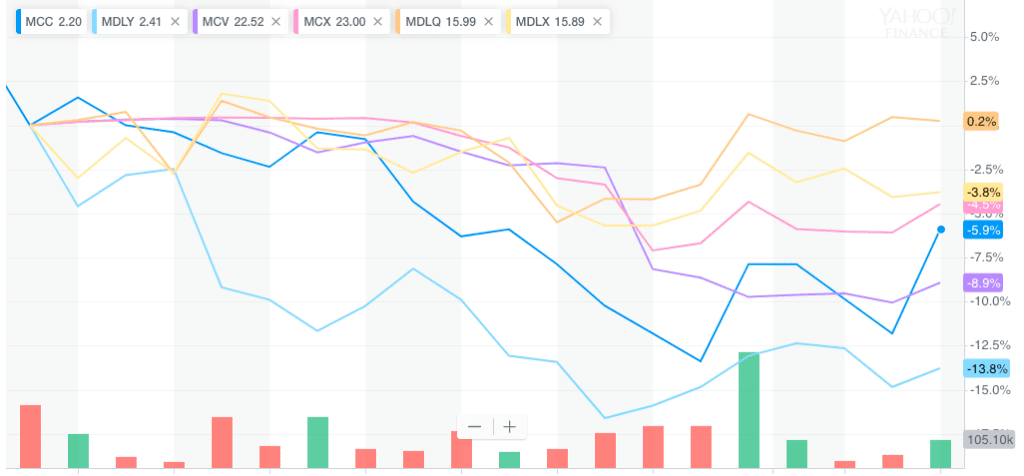 We still have no idea how this is all going to play out, but expect to be hearing more as the summer unfolds.