CAUTION AND PROFIT-TAKING
kept Europe's
investment-grade bonds with a slight edge
over junk debt in today's trading. A
mix of European economic data
kept price swings channeled in fairly thin bands, as
inflation took a downturn
,
GDP came in above forecast
, and jobs data showed the
lowest unemployment since '09
. The
oil-and-energy group fared well
, giving important sector cues to corporate-bond traders, as
Nymex
oil prices hovered around $54 and
BP PLC
shares initially rose 3.6%. However
BNP Paribas
weighed on the financial group, off 2.9% on disappointing quarterly revenue, while
Weir Group PLC
tanked 7.3%.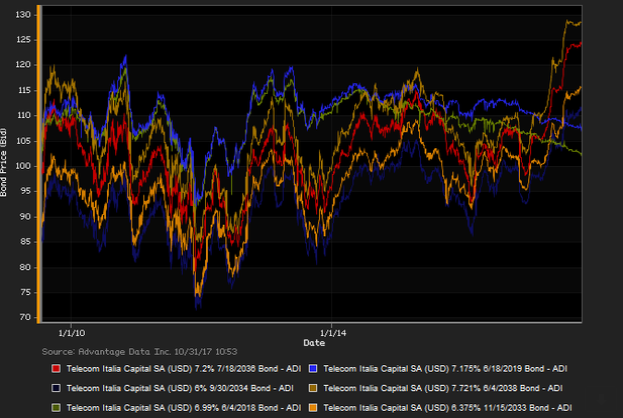 Investors shunned more risk
for the most part, in trading of European corporate bonds today. Although the pan-European
Stoxx 600

reflected sustained interest in speculative trades of stocks
, bond traders kept an eye to details of this week's meetings of
The
Federal Reserve
,
The Bank of England
, and
The Bank of Japan
. The last of these left its stimulus program unchanged, while trimming its forecasts for inflation.
Attention to global political risk
was also in the mix, amid scathing indictments 'across the pond' by special counsel Robert Mueller regarding involvements of former Trump aides with Russia. Meanwhile the
oil-and-gas group looked very robust
amid gains in
Nymex
crude oil and
BP PLC
shares (see above). Additional sector cues for bond traders were found in gains of
Ryanair Holdings PLC
shares, up over 5% at one point, while
Croda International PLC
added 3.6%,
BNP Paribas
was off 2.9%. ADI (Advantage Data Inc.) extensive corporate-bond index data showed a
net daily yield increment for high-grade versus high-yield
constituents.
Investment-grade bonds edged out high-yield debt
in net prices, as of
4 PM
London time. Among European high-grade bonds showing a concurrence of top price gains at appreciable volumes,
Santander UK PLC
2.875%
10/16/2020
made some analysts' 'Conviction Buy' lists. (See chart for Telecom Italia bonds, above.)