Italian government has decided to request approval from parliament for a 20 Billion Euro bail-out to stabilize its banking sector. A priority of this capital raise will be to bail-out the world's oldest bank and number three lender, Banca Monte dei Paschi di Sienna (IT: BMPS). In the beginning of December, BMPS, was in the news as it sought out 5 Billion Euros in order to cover debts and to dispose of toxic loans. Prior to the government meeting, BMPS, had formally attempted to raise the needed capital injection from private investors to avoid government intervention. The bank would need to secure the funds from private investors prior to the end of the year to avoid action from the government.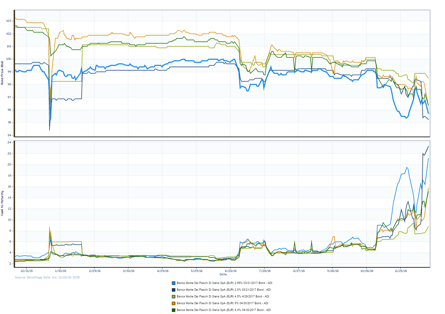 The fear of government intervention is that if called upon, EU law says that private investors, who hold 2.1 Billion Euros worth of BMPS Bonds, are liable to take losses.
---
Monitor the movement in the BMPS debt and the entire Italian Banking Sector by requesting a free trial of AdvantageData today.
---