Saratoga is an externally managed Business Development Company (BDC) investing in middle market companies with revenues of $8 million to $150 million and EBITDA of $2 million or greater, typically making investments of $5 million to $20 million.
NEW LOANS: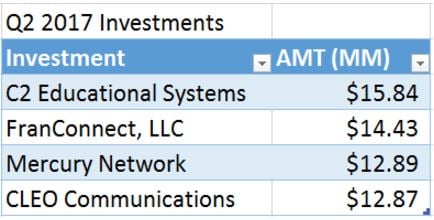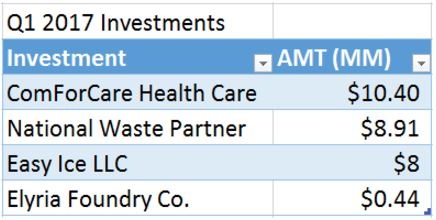 During Q2 of 2017, Saratoga funded 5 new loans to 4 different companies, totaling $85 million in new investments:
$15.84 million to new portfolio company C2 Education, a private tutoring program.

$14.428 million to new portfolio company FranConnect, a world class franchise management software company.

$12.886 million to Mercury Network, a provider of vendor management software.

$12.872 million loan new portfolio company to CLEO Communications, an enterprise software company providing electronic data interchange, and application to application, business to business, and big data integration services for file transfer needs.
INVESTMENTS IN NON-ACCRUAL STATUS:


Three new investments were filed under "Non-Accrual" status in Q2 of 2017, including M C Acquisition Corp, TM Restaurant Group LLC loans, and My Alarm Center totalling 3.17% of Saratoga's total portfolio, up from 2.68% during Q1 2017.