Comparing quarterly filings, fund breakdowns and more...
After the 2008 financial crisis and the subsequent regulatory changes, Business Development Companies (BDCs) skyrocketed in popularity, filling the funding gap in middle market companies. BDCs are closed-end funds that mostly invest in private, growing companies and, increasingly, larger later stage corporations.
BDCs are required to file quarterly reports to the SEC under the Investment Company Act of 1940. Aggregating the data from these reports is tedious, time-consuming, and lacks standardization. AdvantageData's BDC Product gives investment professionals access to aggregated and standardized data (current and historical), allowing users to easily analyze data relevant to their firm's needs.
Utilizing BDC Data
With BDC Advantage, users can view and download current and historical BDC's holdings data and relevant analytics by seniority quickly and easily — all on one screen. Through the interactive platform users can manipulate and screen through schedules of investments from the top down or do in-depth individual security analysis.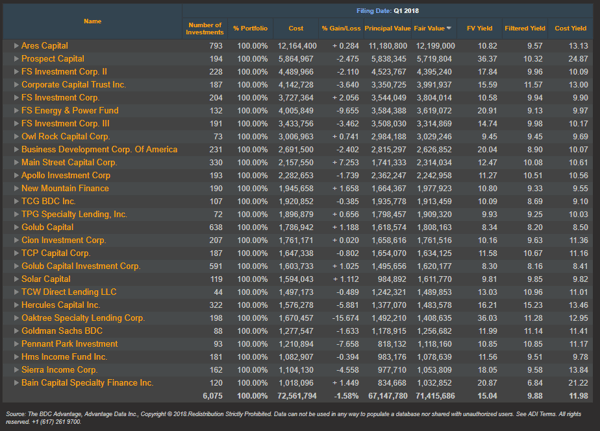 All line items of the schedule of investments are standardized to one uniform format within 8 hours of the filing release. Investment data is fed through proprietary algorithms to generate security-level and portfolio level statistics. Investments are also mapped together to link exposure across the capital structure, link multiple BDCs' exposure and look back through time to track changes historically.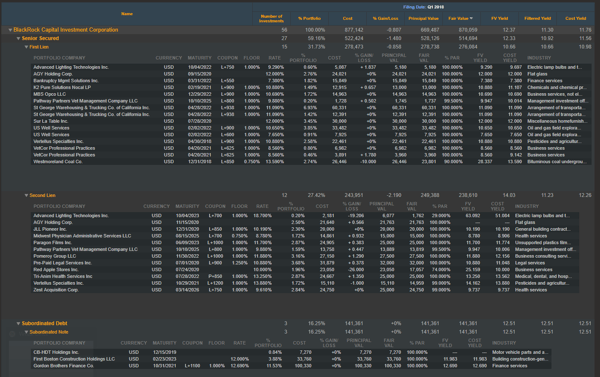 Comparing BDCs is easy with AdvantageData. Review quarterly filings side by side with just a selection of a drop-down menu. Choose one BDC, all of them, or any number in between — users are in control of how they see the data. BDCs can be filtered by private or public offering, AUM range, and more.

Exporting data from BDC Advantage is as simple as clicking a button. The data users select on their screen can be exported as an excel file, ready to format any way they like.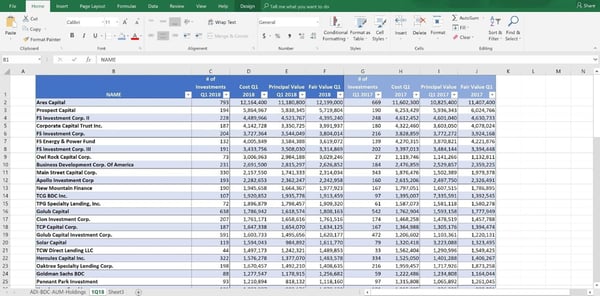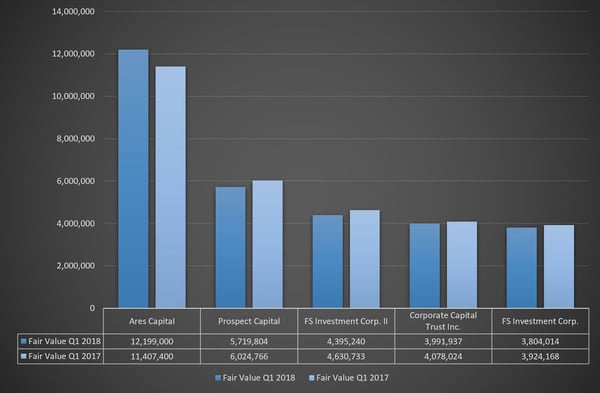 AdvantageData's mission is to provide extremely cost effective products that ease the burden of financial professionals. BDC Advantage aims to save users time and increase their team's productivity. Stop spending hours aggregation quarterly filings; instead, spend that time turning data into deals.
To learn more about BDC Advantage, or to schedule an introductory call with a BDC and Direct Lending Specialist, click "Learn More" below.