Janus, Neustar adding more first-lien debt; PSEC, Triton Pacific hold respective companies' second-lien credits
The secondary market commanded investors' attention last week, what with earnings and other headline news sparking some big swings in widely held credits against the backdrop of a muted new-issue loan market and a high-yield secondary firm at three-month highs since the rebound rally in January.
Download: LFI BDC Portfolio News 2-19-19
While activity in high-yield quieted down last week due to the seasonal slowdown around earnings, loans remain suppressed by the continued outflows from loan mutual funds and tenuous conditions in the CLO market that have prevented the asset class from enjoying the snap-back rally seen in the high-yield market.
Though a handful of opportunistic loan transactions have emerged—Mirion Technologies last week became the first issuer to seek to reduce the margin on its term loan via a refinancing—issuers are largely tapping the market on a need-to basis. As such, the loan market continues to lose share to high-yield and other markets as issuers look to optimize their executions and, in certain cases, avoid tripping MFN protection.
Thus, launched new-issue loan volume was a trickle, at $3.1 billion from seven issuers, representing just $2.8 billion on a net basis. More telling was M&A's share of just $1.5 billion from four issuers as a late-year standstill in merger processes begins to filter into the numbers.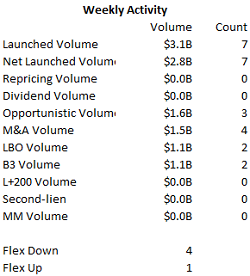 Portfolios in brief: Holds reflect most recent reporting period available
PSEC: Janus International Group (B2/B) — add-on, M&A
UBS set price talk of L+450, with a 98.5 OID, on the $75 million incremental first-lien term loan for Janus International Group. Lenders are offered 12 months of 101 soft call protection. Proceeds will be used to fund several tuck-in acquisitions. Commitments are due Thursday, Feb. 21. The incremental debt will not be fungible with the issuer's existing first-lien term loan due February 2025, which is priced at L+300. The MFN protection has lapsed on the existing loan. Prospect Capital holds $20M in principal amount of the company's 2L debt (L+775, 1% floor) due in 2026.
Triton Pacific: Neustar (B2/B) — add-on, refi
Bank of America Merrill Lynch set price talk of L+400-425, with an OID of 98.5–99, on the $200 million incremental term loan for Neustar. Commitments are due by noon ET on Friday, Feb. 22. Proceeds would be used to refinance its TLB-3 (L+250) ahead of its January 2020 maturity and for general corporate purposes. The incremental debt would be coterminous, but not fungible, with the borrower's existing covenant-lite TLB-4 due August 2024 (L+350). Note the 50 bps of MFN protection on the TLB-4 lapsed on Feb. 8 per the 18-month sunset provision in the 2017-vintage buyout loan. Triton Pacific Investments Corp. holds $750,000 of the company's 2L debt (L+800, 1% floor) due in 2025.
Download LFI BDC Portfolio News 2-19-19 for BDC investment details provided by Advantage Data; click through links to view stories by LFI.
thomas.dunford@levfininsights.com
212.205.8552