Sears CEO, Edward Lampert stands to lose a fortune if SEARS Holdings Corp. goes under. Analysts increasingly predict that will indeed be the case.
In a hail Mary move last week, Lampert's hedge fund, ESL Investments, along with Cyrus Capital Partners, announced a takeover bid worth over $4.6 billion that would secure 500 Sears and Kmart stores and keep 50,000 employees working. The deal -- a mix of cash, equity, new loans and debt swaps -- would also include the Kenmore appliance and DieHard tool brands, real estate, and the company's inventory and receivables.
A key condition within the deal would release ESL Investments, which is wholly owned by Lampert, from any liability related to deals that it engineered on behalf SEARS before the bankruptcy. Lampert's business holds $2.6 billion of loans, making him Sears' biggest creditor.
Sears Holdings Corp. is shopping around its individual retail stores in an effort to gauge how much they are worth in the open market. Strong prices could upset Lampert's efforts to buy Sears if it turns out the company is worth more in liquidation.
Bids have come from retailers, mall owners, and more. Burlington Stores Inc., At Home Group Inc., Dick's Sporting Goods Inc. and U-Haul are among those that have expressed interest in Sears properties.
Parties interested in bidding on Sears assets have until December 28th to do so under the timeline approved by the bankruptcy court.
Having suffered from the rise of Amazon and large chains like Walmart and Target, Sears and Kmart have lost more than $11 billion in the last six years.
The company filed for Chapter 11 bankruptcy protection on October 15th of this year, hoping to restructure, shed debt, and emerge as a smaller yet viable company.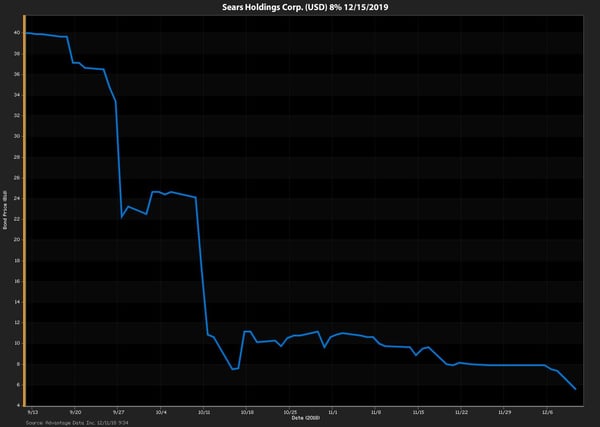 The Sears Holdings Corp. 8% high yield bond maturing 12/15/19 is #1 on AdvantageData's Top Daily North American High Yield Losers list. With a price of $5.625, it has lost nearly 86% of its value in the last three months.

Want to learn more about Sears and the other companies on the AdvantageData Top Daily North American High Yield Losers list? Sign up for a free trial of North American High Yield Advantage!