Looking across approximately 85 lower middle market loans (<$50 million) made to the retail sector in through Q3/16, we see the Q1 freeze followed by Q3 troubles in the retail sector impact dealflow.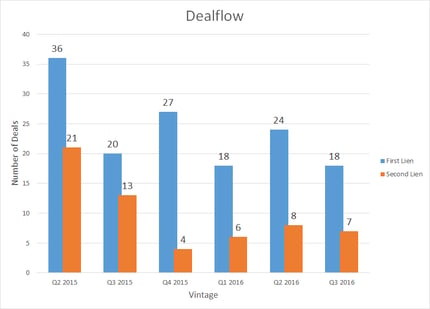 As with many sectors, we also see a gradual risk off with a move away from second liens beginning in Q4/15.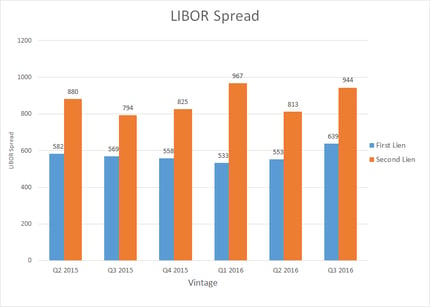 Average LIBOR spreads for second liens hit 967 basis points in Q1, reduced to 813 basis points in Q2, only to move back up to 944 basis points for Q3. First liens held steady for the first two quarters of 2016 around the mid-500 range, only to increase to mid-600 with the troubles in the sector in Q3/16.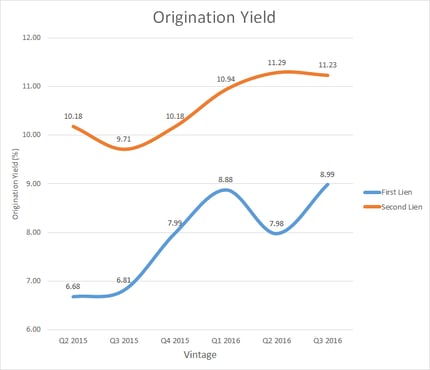 Origination yields reacted similarly. In Q1/16, retail sector loan yields, on both first and second liens, increased dramatically, but in Q2 there was divergence with second lien origination yields continuing climb while first lien yields enjoyed improved market sentiment. With trouble in the sector in Q3, first lien origination yields shot back up to 9% with second liens flat at 11.2%. The gap between 1st and 2nd liens for the retail sector remains about 220 basis points except for Q2 where risk off on second liens and better market sentiment on first liens increased the gap to 330 basis points.
---
To view more reports and analytics about the Middle Market, request a free trial to AdvantageData.
---