We all know that companies in distress tend to have a harder time meeting their financial obligations, which translates to a higher probability that they will default. A company in this position has pretty straightforward options: either raise enough cash through asset sales, operating improvements, and new financing, or reduce or postpone interest and principal payments on the debt by negotiating with creditors.
For restructuring or turnaround experts, identifying distressed companies is the first hurdle to deal sourcing and business development. Using the AdvantageData workstation, we've compiled a list of distressed loans that you might want to be aware of.
At the top of our "distressed loans" list is Anchor Glass Container Corporation. Anchor Glass recently reached a settlement with the Department of Justice over alleged violations of the Clean Air Act. The company has agreed to pay a $1.1 million civil penalty as well as invest over $40 million to bring pollution controls to 6 manufacturing facilities in Florida, New York, Oklahoma, Indiana, Minnesota, and Georgia. [source]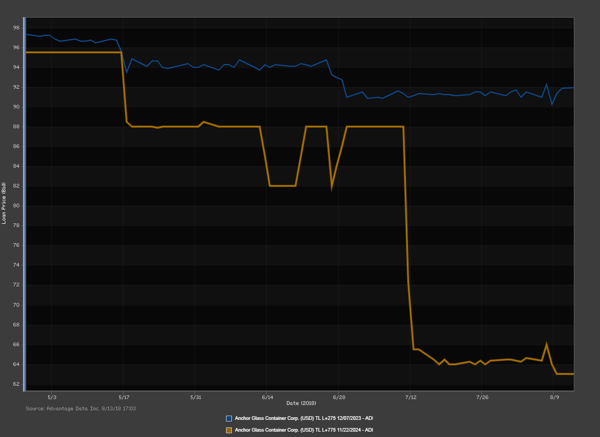 During the Justice Department review, the markets lost confidence in Anchor Glass. Over the past four months, the company's loan values have plummeted. Since May of this year, prices of Anchor Glass's first lien loan dipped to $92.00 while the second lien loan dropped to just $63.00 as of this writing. Now that a settlement has been reached, time will tell how well Anchor Glass will recover in both the markets and in the eyes of investors.
Anchor Glass is no stranger to environmental snafus. In 2001 the company was fined $43,442 by the Environmental Protection Agency for "environmental violations." [source]
Access our short list of newly distressed loans. Learn how you can create your own custom lists and use AdvantageData to source your next restructuring or turnaround deal.
AdvantageData's (ADI) workstation provides the tools for restructuring advisors to source and analyze newly distressed opportunities in the credit market. Download our Restructuring Deal Sourcing PDF to learn more.
ADI is a powerful business intelligence and prospecting tool for the credit space. Quickly screen for details around pricing, leverage and other lender data for Middle Market companies; easily create precedent debt transaction comps, screen for distressed and maturing refi opportunities for further business development, and more.