Restructuring is often driven by market rhythms, or quantifiable circumstances like the decline of shopping at brick-and-mortar stores in favor of online shopping. An easy example of the latter is the rise in eCommerce at online stores like Amazon, resulting in the bankruptcy and liquidation of Toys R Us. Another, less common circumstance can be natural (or unnatural) disasters.
It has been reported that Pacific Gas & Electric (PG&E), a California based utility, has brought in law firm Weil Gotshal & Manges LLP to explore restructuring options after California officials found the company responsible for the deadliest wildfires in the state's history in the fall of 2017. One option the firm is said to be exploring is breaking up PG&E and filing bankruptcy for one of the units. For companies struggling financially, sacrificing one area of a business to protect the rest from liabilities is a popular strategy. [source]
Facing as much as $17.3 billion in liability stemming from the fires, PG&E's value has fallen $13 billion. Investigators found the company's power lines and equipment to be the source of 16 fires that scorched over 245,000 acres of land, destroying thousands of homes and killing dozens of people. [source]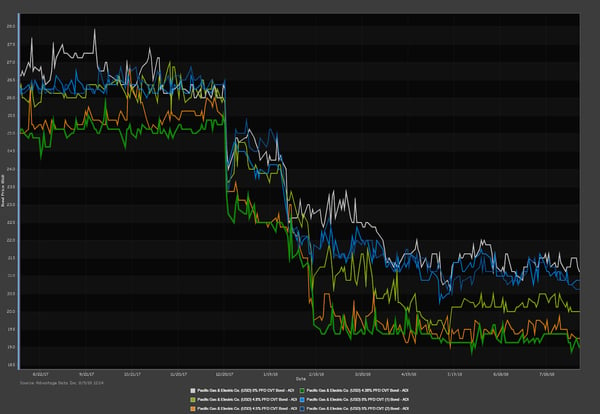 But the bond market seems to say that restructuring talk may be premature, as even after the prospect of a bankruptcy was raised, bonds continued to sell. Demand from fixed-income investors led PG&E to increase its corporate debt offering from $600 million to $800 million last Thursday.
AdvantageData's workstation provides the tools for restructuring advisors to source and analyze newly distressed opportunities in the credit market. AdvantageData provides one of the largest searchable databases of leveraged loans, middle market loans and corporate bonds in the world. We service the leading restructuring advisors and distressed debt specialists across the globe.
From viewing active deals maturing in the future to doing a post-mortem on what deals have been done and who was involved, ADI is a powerful business intelligence and prospecting tool for the credit space.
Quickly screen for details around pricing, leverage and other lender data for Middle Market companies, easily create precedent debt transaction comps, screen for distressed and maturing refi opportunities for further business development, and more.